Saturday's Student Conference at the AMS 100th Annual Meeting kicking off in Boston featured a series of Conversations with Professionals to gain insight into a variety of career choices, the work these professionals in our field currently do, and how they got where they are today. This year's series, in which short introductions are followed by a Q and A session with students, included two meteorologists who fly into hurricanes with the Air Force 53rd Weather Reconnaissance Wing and another who helps c0-operate the Doppler on Wheels radar for tornado field research.
Below is a sampling of questions students asked Lt. Col. Ryan Rickert and Maj. Jeremy DeHart with the AF Hurricane Hunters as well as Karen Kosiba of the Center for Severe Weather Research. The answers have been edited for length and clarity.
Q (Hurricane Hunters): Can you tell us a little about your backgrounds in the Air Force?
A: (Lt. Col. Ryan Rickert) "Meteorology degrees, with active duty [13 years], go to a weather tech school to learn how to deal with military weather, and then pretty much start with your track—go to a main [Air Force] hub weather regional center to learn how to do big, broad forecasting, then … to a different place and forecast for an airfield so your supporting aircraft at the field. But there are different paths you can take: Science, modeling, Army support, Air Force support, many different ways that you can go.
A: (Maj. Jeremy DeHart) "Yeah, I agree. A lot of people think Air Force, military, and are like 'Oh, I want to do research … it's not really my cup of tea.' but there are so many different tracks you can take, and you're not going to get the breadth of experience you will in the Air Force doing the jobs we did while on active duty. I have a masters degree and they sent me to California for two years [while on active duty], and I was a full-time student and was paid full-time to go to school. And they'll do that for your Ph.D., go teach at the Air Force Academy … so don't be scared off by [military] operations.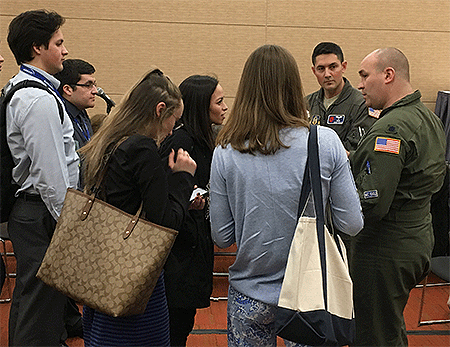 Q (Hurricane Hunters): How do you adjust when a hurricane is rapidly intensifying?

A: (Maj. Jeremy DeHart) You're always adjusting, because it's never what you exactly expected. We maintain a pressure altitude of 10,000 feet flying into and through the eye of a hurricane. By the time you're in the eye, in the stronger storms you're down to 8,000 feet. In Hurricane Wilma, which set a low pressure record, they were flying at 5,000 feet because they didn't expect it to be that strong, and by the time they got [in the eye] it had bottomed out and the plane flying a 5,000-foot pressure … was down to about a thousand feet and had to pull up."
A: (Lt. Col. Ryan Rickert) "We don't do that anymore. We now go in higher. … When we're briefing we're changing things. And even in the execution of the mission we constantly have to adjust. … Constantly changing our pattern if there's a really intense area [of convection] that doesn't look [on radar] like it's safe to go through.
Q (Hurricane Hunters): What do you do in the off-season?

A: (Maj. Jeremy DeHart) "We go to a lot of airshows."
A: (Lt. Col. Ryan Rickert) "We give talks at conferences, promote what we do, find out what kinds of new instruments we want to put on our airplane, things like that."
A: (Maj. Jeremy DeHart) "A lot of people don't realize we have a winter storm requirement as well. … We'll fly a synoptic pattern and just pepper a big storm with [dropwindsondes]. We'll fly higher, like 30,000 feet or so, and just carpetbomb the whole thing with instruments."
Q (Tornado Research): What made you target research versus academia on your career path?
A: (Karen Kosiba) "Sometimes when you're deep in academia you don't think there's anything outside academia. I was getting ready to graduate and I had done tons of field research but also applied for jobs in academia, in government … and I got many of those jobs. So I picked what I liked. But even if you don't know what you're doing you visualize that you'll try a little of everything. … When I first started working with the Doppler on Wheels I thought I was going to be a technician … but I started to enjoy some different things and it just ended up this way. Just because you get a bachelor's, a master's, a Ph.D., an associate degree—whatever you're getting your degree in—doesn't mean you can't do different jobs."
Q (Tornado Research): Can you elaborate a little on graduate school and how you learned how to write grants?

A: (Karen Kosiba) "For those of you in graduate school, or going to graduate school, you usually work with a professor, and they're trying to get grants, too. My professor said 'Hey, you want to write a grant proposal?' and I was like 'Sure, let's write a grant proposal.'  And you don't really know much about how to write them in graduate school. You can just wing it, or you can have a good mentor, like I did. You know, [as an aside] you think your mentor should be someone exactly like you, and even though you can have someone who likes the same stuff as you, it can be advantageous to find a person who can help you meet your career goals. Someone who understands what you want to do and who you want to be."
Q (Tornado Research): Do you have any advice for recent graduates who are interested in project-based research rather than forecasting? It seems like a lot of people just take the first thing out there, often university helper.

A: (Karen Kosiba) It's true. But I think there are more opportunities out there than just waking up and taking those first opportunities. In my case not only did I shop for a mentor but also an advisor who could help me out in the field. Big universities often have big field projects, and they don't always advertise them as well as they should. It can be tricky to get out and get that experience. But places like NCAR have programs getting [their] people out to do field projects. And the University of Wyoming, NSSL, will have projects going in and out. They're out there and sometimes you have to do a bit of work to find them. Even if one professor doesn't have anything, they might know someone who just got funded for a project. And once you're in them take some responsibilities on … and become an active crew member and contributor to the project.