Thursday NOAA updated its forecast to an "extremely active" Atlantic hurricane season. That has some news outlets linking the  19-25 predicted named storms to Earth's future—even warmer—global climate. The future looks like it will indeed bring high levels of overall "activity" due to the intense, damaging hurricanes of a warming world (regardless of whether the frequency of storms overall changes). And, of course, settling into a new "norm" isn't going to happen while warming is ongoing. But the huge number of storms forming? That's a lot of what the public takes away from the forecast, and that profusion of named storms is not projected to be characteristic of seasons to come.
As we blogged here in May, recent research published in the Bulletin of the American Meteorological Society finds there's no evidence to support an increasing trend in tropical cyclone frequency.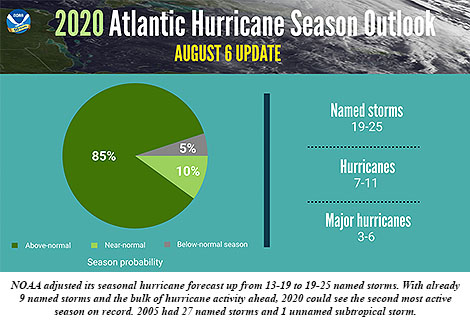 In that assessment of the current literature, Tom Knutson (NOAA) and other top tropical experts reviewed a number of peer-reviewed studies and determined that a majority found the numbers of named storms actually decrease in climate projections as we move deeper into this century. But there was no consensus among the authors to either support or refute those studies since their research also showed that "there is no clear observational evidence for a detectable human influence on historical global TC frequency."
Their assessment did find that we can expect stronger and wetter hurricanes in our warming world and, notably, a possible uptick in the number of intense (Category 4 and 5) hurricanes. It's these storms that have Knutson and his colleagues most concerned since a majority of hurricane damage is done by the big ones. Their increase is alarming even if the number of storms goes down.
Notable with this week's forecast update is a prediction close to record territory. "We've never forecast up to 25 named storms" before—more than twice a season's typical 12—noted Jerry Bell, lead seasonal hurricane forecaster at NOAA's Climate Prediction Center. He went on to say there will be "more, stronger, and longer-lived storms than average" in the Atlantic Basin, which includes the Caribbean Sea and Gulf 0f Mexico. In an average season there are six hurricanes,  and three of those grow into major hurricanes.