"In summary, it's going to be bad."
That's how Jeff Evans with the NWS in Houston/Galveston began Wednesday's presentation, "What if Hurricane Michael Struck Houston? An Examination of Inland Wind Damage," at the AMS 100th Annual Meeting in Boston.
He was boots on the ground after Hurricane Michael slammed the panhandle as a Category 5 with 160 mph winds on October 10, 2018, assisting the Tallahassee NWS office with surveying the widespread wind damage that extended well away from the coast. Because Michael was intensifying at landfall as well as accelerating, its extreme winds spread deep inland, across the panhandle and well into southwest and southern Georgia.
The Donalsonville, Georgia, airport northeast of Marianna, Florida, and about 90 miles inland, recorded a wind gust to 115 mph, while Marianna had a gust to 103 mph in Michael. Both as well as Blountstown, Georgia, suffered significant damage to structures as well as trees.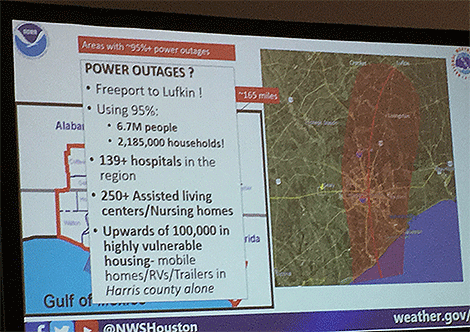 Evans overlaid maps of Michael's track, wind swath, and areal power outages on Houston to show the extent of its damage potential. The entire Houston metro area with 7.1 million people would suffer; 6.9 million would lose power. And damage to homes and devastation to the landscape would mimic the widespread destruction he observed in the Florida panhandle and southern Georgia where entire forests were virtually flattened.
Evans said that as an NWS meteorologist responsible for warning the Houston area if such a scenario threatened he would have a lot of trouble following the standard hurricane mantra, "Run from the water, hide from the wind."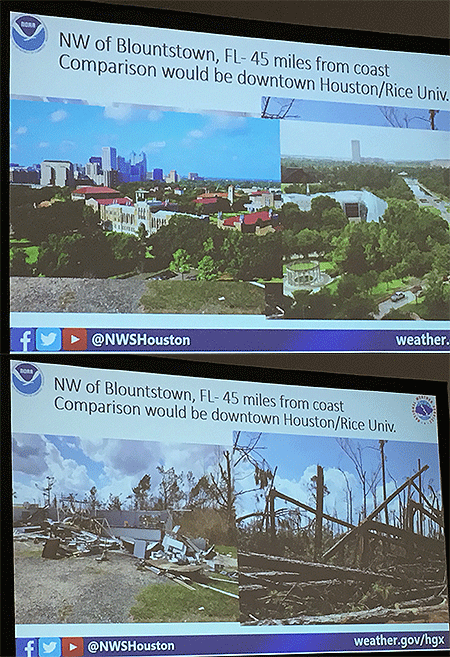 "Telling people inland to stay put in such extreme wind conditions is not something I would want to do," he says.
But, he adds, telling them to get out could prove just as deadly in the mass exodus.
"When you start talking about storms, such as Rita, with 130 mph winds or higher, it's a spontaneous evacuation." More than 50 people died just from the evacuation of Houston ahead of that storm, he says
It's been 37 years since a storm brought a significant wind threat to the Houston area. Hurricane Alicia in 1983 was the last. Hurricane Harvey in 2017 was a widespread catastrophic flood event. Hurricane Ike in 2008 was primarily a surge storm.
"The population in and around Houston has doubled during that time," Evans says. A 2015 American Community Survey showed more than 130,000 people in just Harris county who live in mobile homes, with thousands more in the surrounding counties.
He conducted the research to raise awareness of a "Michael-like" storm and the immense challenges it would represent.