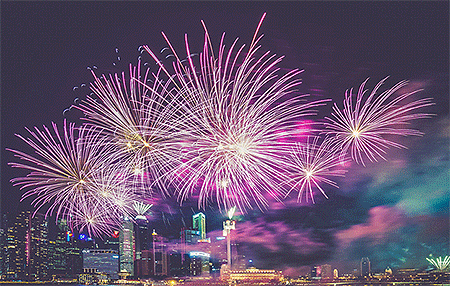 by Perry Samson, Climate and Space Science and Engineering, University of Michigan
On July 4th last year, in an attempt to entertain my two grandchildren, I set off what I felt was a modest display of fireworks in our front yard. A monitor that measures the concentration of particles (PM2.5) in the air was mounted there and my colleague, Jeff Masters of Weather Underground, noticed that the concentrations being recorded were remarkably high that evening. This led us to review hourly concentrations of PM2.5 that night across the United States, collected both by state agencies and an independent network available from PurpleAir.org.  Results showed widespread increases in particulate concentrations that evening, with increases varying across the country.
Nationally, about 80% of all sites saw a doubling of particulate matter during the evening of July 4, 2017 with several sites producing exceedances of the National Ambient Air Quality Standard of 150 µg/m3 3-hour standard. These results were presented at the AMS Annual Meeting in January in a talk entitled "Oh Say Can You Breathe."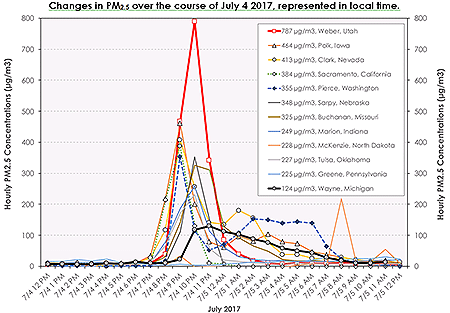 Moreover, the increase in PM2.5 seen in 2017 is consistent with other years. The increase in PM2.5 from background levels was compiled for the eight-year period 2010-2017. Over that time over 25% of measurement sites in the United States reported a rise of at least 35 µg/m3 with about 5% reporting a rise of greater than 100 µg/m3.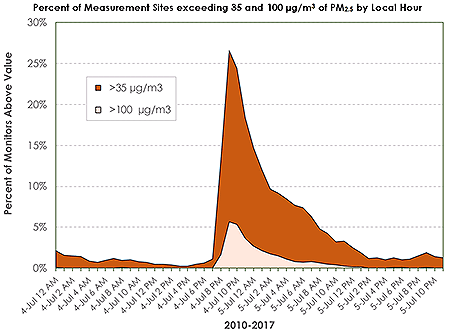 These results are compelling as they point out how, for at least one evening a year, we are willing to subject ourselves (and even our grandchildren) to high concentrations of particulate matter. According to the EPA, concentrations above 150 µg/m3 are considered "Unhealthy" and can cause widespread coughing and other increased respiratory effects.
While it is unlikely that there will be much political will to legislate against fireworks displays in the United States, these results should be of interest to people suffering from asthma who may want to protect themselves from outdoor air during this year's July 4th celebrations.
As for me, and despite evidence of risk, I'm doubling down on the fireworks this year to REALLY impress the kids.
I just moved the PM2.5 monitor away from my home.