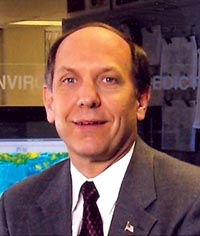 With a huge snowstorm blowing through the northeast United States, it seems an appropriate time to announce that Louis Uccellini has been voted the new AMS president-elect. The director of the National Weather Service's National Centers for Environmental Prediction, Uccellini has coauthored two acclaimed AMS books on just the kind of snow the Northeast received today: Snowstorms Along the Northeastern Coast of the United States: 1955 to 1985 and Northeast Snowstorms. Uccellini will take over as AMS president in January 2012.
Four new councilors were also chosen in the elections: Peter J. Lamb, Patricia A. Phoebus, William L. Read, and H. Joe Witte. They began their three-year terms in January.
The AMS congratulates all the winners!