It snowed throughout the Northeast on Wednesday, but very few are feeling sorry for everyone in that region who had to pull out their shovels. The odds are good that you or someone you know in your state has had to deal with snow lately, too–no matter where you live in the country. According to the NWS's National Operational Hydrologic Remote Sensing Center, which collects snow cover and depth data from ground reports and satellite observations, 49 of the 50 states currently have some snow cover…even Hawaii (this video was taken last month)! Only Florida has avoided a recent visit from Jack Frost.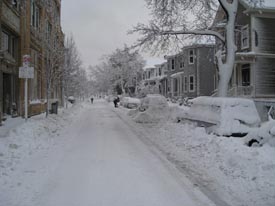 This isn't an unprecedented event–in fact, all 50 states had snow on the ground last February 12th, and University of Oklahoma meteorology student and AMS student member Patrick Marsh obtained pictures from every state of that day's snow.
But "it's not typical," says James Peronto, public affairs officer for the NWS, who noted that recent snowfall throughout the Southeast has created the unusually white map.
"The Southern states don't typically get significant snow amounts through the year," Peronto said. "It takes a special kind of weather scenario to allow that to happen."
(This quick history lesson on Southern snow illustrates how rarely such a scenario occurs.)
NWS observations show that 70.9% of the country was covered by snow as of yesterday, compared to an average of 35% snow cover in December.


Snow cover and depth analyses like these are not just for interstate precipitation bragging rights or cabin-fever consolation. At the AMS Annual Meeting in Seattle, a number of science presentations will show the value of snow cover observations.
For example, Patricia de Rosnay et al. will present recent "major changes implemented" in the operational surface analysis of the European Center for Medium-range Weather Forecasting's Integrated Forecasting System," including a method of combining satellite observations of snow cover for the land surface conditions for weather modeling. (Tuesday, 25 January, 1:45 p.m.; WSCC 611).
Sujay Kumar et al. (poster 42, 9:45 a.m.-11:15 a.m., Tuesday, 25 January), will discuss snow cover from active microwave remote sensing and look at the value of assimilating snow observations from multiple satellites for hydrological modeling. They point out that "Snow conditions on the land surface are … key components of the global hydrological cycle as they play a critical role in the determination of local and regional climate."
One way in which this is true is in regions where melted snow dominates water supply. On Thursday 27 January (4:15 p.m., WSCC 611) Randal Koster et al. will "examine how knowledge of mid-winter snow accumulation and soil moisture contributes to our ability to predict streamflow months in advance." In an experiment with multiple land surface models,  "snowpack information by itself contributes, as expected, to skill attained in streamflow prediction, particularly in the mountainous west." (They go on to show the additional importance of soil moisture conditions to long-lead forecasts, particularly in winter.)
Meanwhile, as a basis for the observations used in such studies, Ding Liang et al. (Poster 595; 8:30 a.m-4 p.m., Wednesday, 26 January) will delve into improvements for modeling of microwave emissivity of snow—an important step toward constructed improved snow cover data retrieved from satellite remote sensing.