Smartphones continue to get more popular and, well, smarter, making them ideal for large-scale data-gathering projects. The concept is called crowdsourcing, and there are an increasing number of benefits that a large group of people with smartphones and other mobile devices could provide.
Case in point: Researchers at the University of Southern California have created an application for Android phones (an iPhone app is in development) that they hope will enhance air pollution monitoring. The "Visibility" app allows the public to send pictures they take of the sky to a central database, where the pollution levels for the pictures' locations can be estimated and recorded.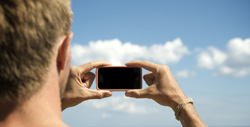 As long as the picture is predominantly of the sky and taken on a sunny day, the app can compare it to accepted models of the luminance of the sky for that location. This provides an estimate of visibility, which in turn helps in calculating the amount of certain types of aerosols in the atmosphere. With the help of some of the phone's features–such as its accelerometer, compass, and GPS–the app can calculate the orientation of the camera and the sun and the time the picture was taken and send that information and the actual picture to a computer, which then estimates the pollution level for the area shown in the picture. The application sends this data back to the picture-taker while simultaneously recording it in a database. (A paper on the research is available here.)
More than 250 people downloaded the app in the first three days it was available. The app has already shown promising results in both Phoenix and the Los Angeles basin when the photo-derived observations are compared to air quality data collected by the EPA. With air pollution monitoring currently limited to sparse distribution of monitor stations, the potential exists for this new app and its successors to change the way we monitor the sky.
The app's developers hope that its popularity continues to increase, which would help them to refine and update its performance. So if you're reading this on your smartphone, here's an opportunity to collect some air quality data of your own.