The Space Weather Symposium at the AMS Annual Meeting once again will discuss the radiation exposure that airplane passengers get from outer space. This year the presentations in this area of space weather cover future suborbital flights as well (Tuesday, 1:30 p.m., B315).
A typical flight exposes airline passengers to minimal levels of extraterrestrial radiation; such occasional exposures are not considered harmful. The radiation concern is usually reserved for high-flying pilots who spend a lot of time in the air, especially on long polar routes, or for flights during a solar storm.
But one source of gamma rays and typical x-rays might indeed be quite problematic, though very rare, for ordinary air travelers. The radiation is not from outer space, but instead from Earth.
A research group led by Joe Dwyer, professor of physics and space sciences at Florida Institute of Technology, shows that terrestrial gamma-ray flashes (TGFs) produced by thunderclouds could expose nearby airplanes to a radiation dose of 10 rem. That's about 400 chest X-rays, three CAT scans, or 7,500 hours of normal flight time, what the researchers describe as "biologically significant levels." Their results are upcoming in the Journal of Geophysical Research-Atmospheres.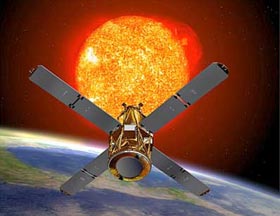 Ironically, research into TGFs has intensified because of space weather research. The 2002 launch of RHESSI (the Reuven Ramaty High-Energy Solar Spectroscopic Imager), which studies solar flares, enabled scientists to investigate the connection between thunderstorms and TGFs. So far RHESSI has recorded about 900 TGFs. Research continues into the exact relationship between these gamma ray outbursts and lightning.
While high energy radiation emanating from storms may sound frightening, the aircraft would have to be within a few hundred feet of the initiation point of the lightning discharge at exactly the right moment. Considering that planes tend to avoid thunderstorms, this makes chances exceedingly low for such an exposure.