by Tanja Fransen, AMS Councilor and Mentoring Program Ad-Hoc Committee Chair
AMS has a wealth of talent and we'd love to see more of our members signed up for the Mentoring 365 program as mentees, mentors–maybe both!  We should never stop learning. When I started in college and early in my career, I hadn't even heard of the term mentor, let alone thought of myself as a mentee.  Looking back now, there are so many people who I can count as someone who had a positive influence in my decisions and the path my career took. Coaches, mentors, professors, classmates, co-workers, bosses, supervisors, leaders: they all had a hand in shaping my career because they invested their time in me.  Who are you investing your time in?  Who is investing their time in you?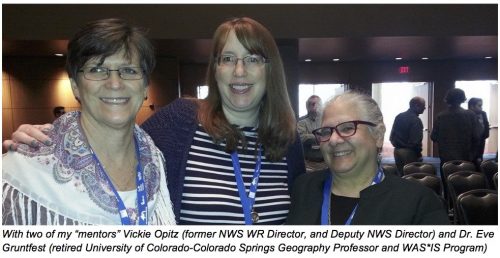 About ten years ago, through various leadership programs, I learned more about formal mentoring, and I couldn't help but wonder, "Why doesn't everyone have a mentor?"  It's a logical step for anyone who is excited about their careers and looking for guidance. Everyone can benefit from having a non-coworker or non-supervisor to talk with, who will be honest with them, encourage them, celebrate their successes, and help them get to the next levels in their careers.  I've participated in several formalized programs, and it always puts a smile on my face to see these mentees doing well.  One of the most amazing moments for me was having a mentee whose son was murdered while we were working together.  We went from my mentoring someone in sciences and government, to learning one of the most amazing lessons about grace and forgiveness, and I'll never forget that experience.  Not all benefits are apparent when you start a program!
When I was nominated to run for the council of the AMS, it was an obvious niche that was needed. I made it one of my priorities to bring a formal program to all of our AMS members.  With the help of others within AMS who also had our people as their passion, including Matt Parker, Keith Seitter, Wendy Marie Thomas, Wendy Abshire, Maureen McCann, and Donna Charlevoix, we were able to connect AMS with the American Geophysical Union's (AGU) Mentoring365 program through a signed MOU.  AMS members can join this program as either a mentee, a mentor or both.  You also have access to mentors across the geophysical sciences, including members of the AGU, the Society of Exploration Geophysicists (SEG), Association for Women Geoscientists (AWG), and the Incorporated Research Institutions for Seismology (IRIS).
I've met the most amazing people thanks to AMS, from the enthusiastic students, to the eager early career professionals to the mid- and late-career professionals who have the most amazing resumes and curricula vitae!  Let's tap into all of that energy out there and build Mentoring 365 for the benefit of all!  Join today!