A Research Spotlight from the 14th Annual Fire and Forest Meteorology Symposium, 2–4 May, 2023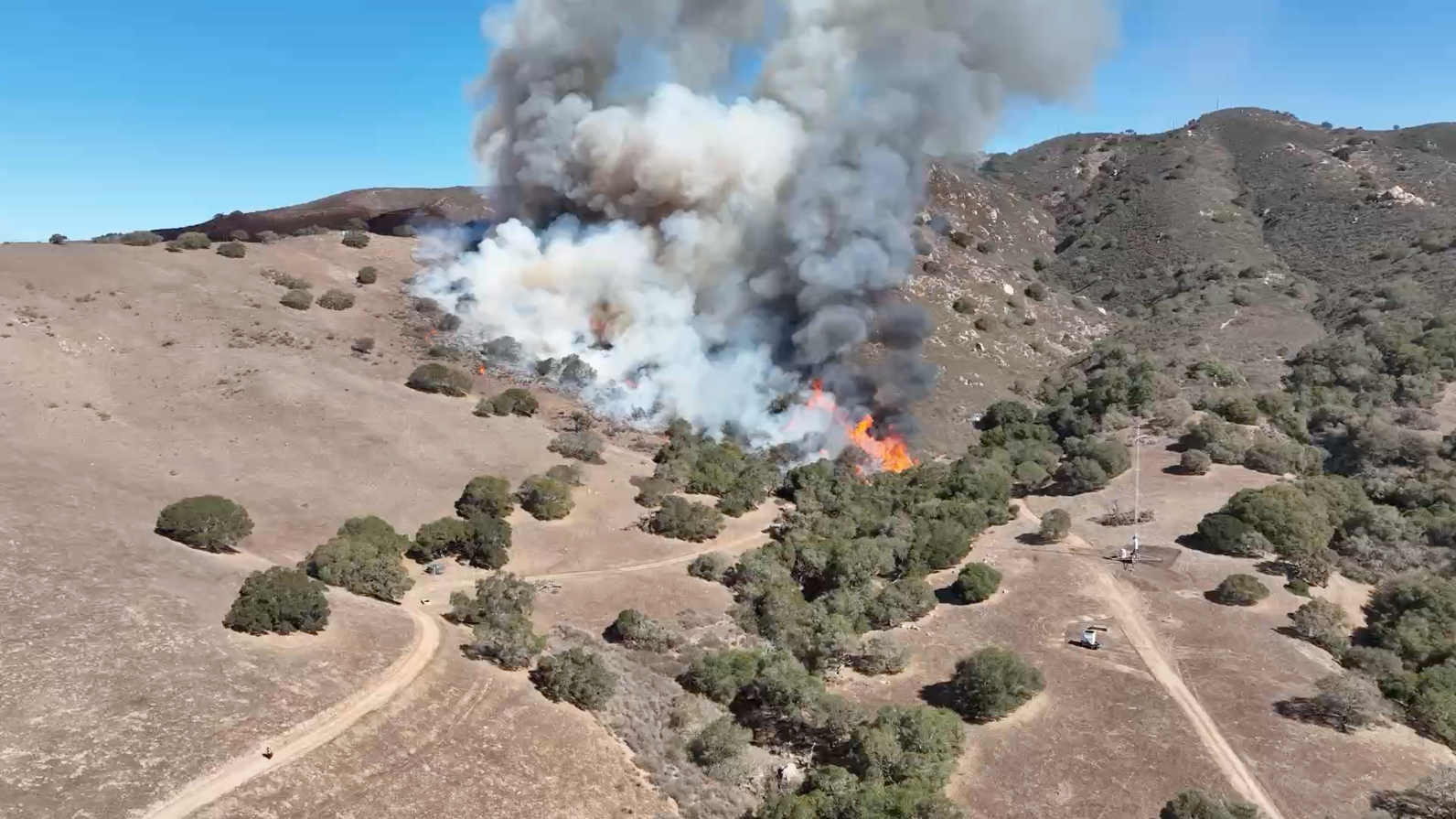 Wildfires in complex terrain like canyons are known to be particularly dangerous. Canyon fires often "blow up" or "erupt," exploding suddenly with intense heat and spreading rapidly—and too often causing fatalities among firefighters. In the ninth session of the 14th Fire and Forest Meteorology Symposium on 4 May, Maritza Arreola Amaya presented initial results from the California Canyon Fire experiment, a controlled burn that was intensively documented to help better understand the behavior of canyon fires.
In this experiment, conducted in Central California's Gabilan Range, a fire was ignited and monitored by a large team who placed sensors around the fire site and monitored the blaze from the ground, from the air with balloons, drones and helicopters; from meteorological towers; and with vehicle-mounted instruments including Radar, LiDAR ("light detection and ranging," which uses laser light pulses to build three-dimensional images), and SoDAR ("sonic detection and ranging," which uses sound waves to measure wind speed at different heights). The fire was lit near the bottom of the canyon in steep terrain of chaparral and sparse oak trees. It moved quickly up the canyon, the first time a fire of this size has naturally done so while under intense monitoring.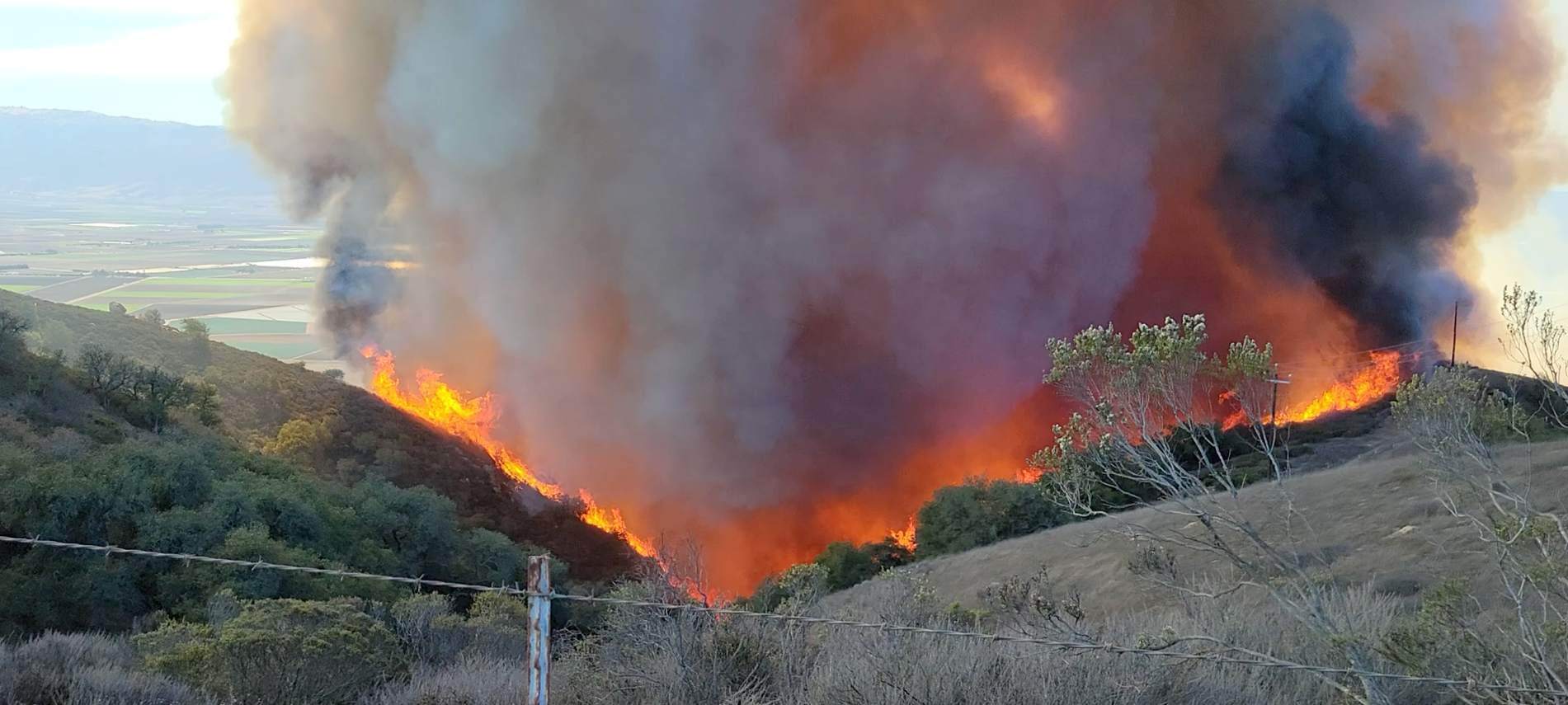 The fire spread up the walls of the canyon in a "v" shape. It clearly exhibited eruptive behavior including flame attachment—in which hot gases rising from the fire downslope heat the unburned fuel further up the slope, leading to an intense, quickly spreading fire front. A highly turbulent, rotating plume of smoke emerged, and air was rapidly entrained into the fire, where temperatures reached nearly 800 degrees Centigrade (1472 Fahrenheit).
While some instruments were destroyed by the flames, researchers at San Jose State, the NSF-UICRC Wildfire Interdisciplinary Research Center, and more are eagerly analyzing the data collected to help improve understanding and modeling of dangerous canyon fires.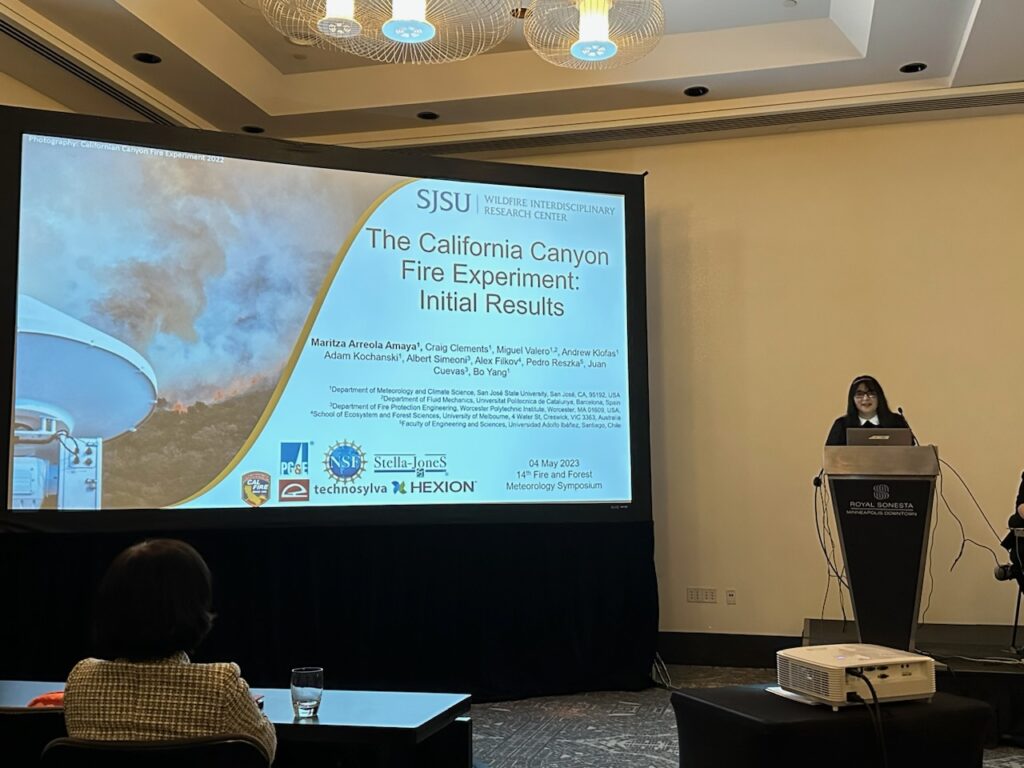 "Working on this one-of-a-kind canyon project was one of the coolest things I've ever done. Seeing the experiment that took so long to organize and set up finally come to life was amazing. It involved countless hours setting up complicated instrumentation so that ultimately the behavior of a wildfire on canyon terrain could be analyzed for the first time naturally moving up a large canyon. I know that this successful experiment will play a big part in future investigations involving wildfires on complex terrain and the danger they bring to firefighters."
Maritza Arreola Amaya
Meeting registrants can view the recording of this session here. Recordings become publicly available three months after the meeting.
For a real-life example of a fatal canyon fire and the weather conditions that worsened it, see our post about the Yarnell Hill Fire.
---
About 14Fire
Meteorology and wildfires are intimately interconnected—and wildfires are becoming increasingly severe and frequent in many parts of the United States. From local residents and firefighters on the ground to planners and insurers, to people hundreds of miles away breathing wind-driven smoke, society relies on our ever-improving ability to understand and forecast the atmospheric conditions relating to wildfire. The American Meteorological Society's 14th Fire and Forest Meteorology Symposium brought together researchers and fire managers to discuss the latest science.