The Thanksgiving holiday weekend has long been heralded as the start of the Western United States winter ski season. But new research using regional climate models sees Thanksgiving skiing going cold turkey.
As climate change ramps up into the mid twenty-first century, we can expect shorter ski seasons from the Southwest to the northern Rockies. This includes projections for less snow as well as poorer conditions for artificial snowmaking in the mountain states of the interior West. These are the findings from new research presented by Christian Lackner (Univ. of Wyoming and Johannes Gutenberg-Univ. of Mainz) this week at the American Meteorological Society's 19th Conference on Mountain Meteorology. Despite being entirely on-line, the meeting achieved record attendance.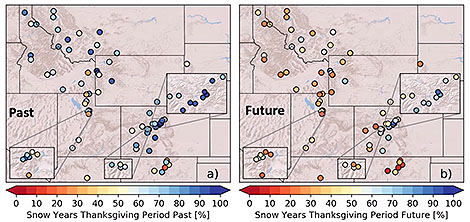 Lackner's presentation, co-authored with Bart Geerts and Yonggang Wang, showed that the downturn in the ski season is projected to impact lower-elevation ski areas such as those in Arizona and New Mexico the most. Ski seasons by 2050 will start about two weeks later and end two-to-three weeks earlier than in the baseline period of 1981-2010. For many resorts that means the season length is seen to fall below the 100-day threshold long viewed as the make-it-or-break point for staying viable in the ski industry.
Higher-elevation ski resorts in Colorado, Utah, and western Wyoming, as well as higher latitude ski areas in Montana and Idaho, will fair better, although they'll see their seasons shrink by 10-20 days. That will drop them below 120 days—the high-elevation, high-latitude resorts' economic threshold—by 2050.
Lackner et al.'s study looked at climate change impacts at 71 ski resorts in Arizona, Colorado, Idaho, Montana, New Mexico, and Wyoming from November 15-April 15, the key cold-season months.
The good news is the Christmas holiday week still looks good for shooshing down Western slopes, despite the climate projections.