By Jonathan Malay, AMS Past-president and retired Lockheed Martin Washington Operations
I'm sorry to say, the word "awesome" seems way overused these days. OK, it's pretty funny when Cecily Strong's character on Saturday Night Live's "Girl Talk" sketch keeps saying "Awesome!" That's amusing, but it's not awesome. Awesome is a word we simply can't help ourselves from using when we're really blown away by something, like when we gaze at the natural miracle of the Grand Canyon below us, or when we behold the immensity, both in size and raw emotional impact, of the new One Trade Center in southern Manhattan, or when we see an Olympic record being broken.
As a meteorologist and a space guy, I've been fortunate enough to look up at the Space Shuttle from the foot of its launch pad at Cape Canaveral. I've seen the brilliant flames when the mission lifted off, and, a few seconds later, felt the vibrations of sound waves penetrate all the way to my bones. I stood in a clean room at the Stennis Space Center a few years ago where I saw, and actually touched, the initial structure and propulsion module of GOES-R, a spacecraft destined to become the first of a new and revolutionary generation of geostationary meteorological satellites. I can honestly say these things I saw and felt were really and truly awesome.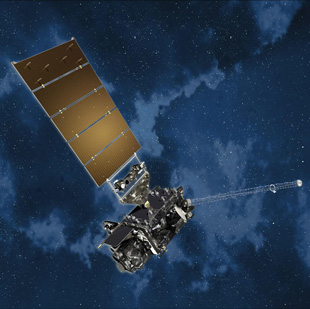 If the schedule holds, at 5:42 p.m. this Saturday, November 19, that satellite will be launched. Thousands of eyes, either in spectator locations, or in mission control rooms, at National Weather Service centers, on big-screen TVs, on computer monitors, or even on handheld devices, will watch the magnificent white- and copper-colored Atlas V as its powerful RD-180 engines ignite and send the GOES-R spacecraft toward its assigned orbit in space. It will be awesome. Really and truly.
GOES-R, which has been some 15 years in the making, is going to deliver to meteorologists, oceanographers, and space weather forecasters at NOAA and everywhere—and to the people of the United States and all the Americas—a truly awesome set of capabilities, such as:
Three times more spectral information
Four times greater spatial resolution
Five times faster coverage
Real-time mapping of total lightning activity
Increased thunderstorm and tornado-warning lead time
Improved hurricane track and intensity forecasts
Improved monitoring of solar x-ray flux
Improved monitoring of solar flares and coronal mass ejections
Improved geomagnetic storm forecasting
By now, AMS members and the meteorological community are probably aware of the improvements GOES-R and the other birds in the series—S, T, and U—will provide over the current GOES-N/O/P-series satellites, which have been in orbit since 2006. This new generation of GOES satellites will far exceed anything we've seen before. As someone who lived the GOES-R experience while working at Lockheed Martin in Washington, D.C., I've had the privilege of knowing and working with many of the fantastic people who have made it a reality. These folks at NOAA and NASA, on the White House staff, on Capitol Hill, at my great company, at our industry partners, and across the meteorological, oceanographic, and space weather communities . . . there are too many of you to acknowledge individually (except program director Greg Mandt, my good friend and colleague, who truly deserves a special shout-out)—you have all been awesome!
So, along with all my friends in government and at Lockheed Martin Space Systems and the Advanced Technology Center, United Launch Alliance, Harris, Exelis, ATC, LASP, and all the great contractors on the team, we'll all be watching Saturday's rocket launch, saying with all our hearts: "GO GOES-R! GO ATLAS!" And then, as the mission disappears in the sky, we'll all involuntarily say, "Awesome!"