It's not every day you get a chance to invest in a sure-fire start-up based on science you know very well. Even rarer is a start-up that is the brainchild of a group of determined middle school students. And when was the last time you could make that investment, for free, with just a click on the internet?
Vicky Gorman, a science teacher in Memorial Middle School in Medford, New Jersey, is currently taking the AMS's DataStreme Atmosphere distance learning course. The students, and the start-up venture, are hers, so we'll let Vicky explain it as she did to AMS President Marshall Shepherd this week:
Two of my 7th grade students approached me last fall about submitting an idea for the $5000 Beneficial Foundation School Challenge. These two young ladies brought many ideas and wonderful enthusiasm to the table. We decided on a "Citizen Science Education Program" to bring science into the lives of the citizens of our community, and allow students to apply their science knowledge to the real world. I am developing this program with my students now as my final project for the DatasStreme course. The focus of the program is Earth Science, which as you know, needs a greater presence in both child and adult education in the 21st century. I can see this project making a difference in our community, county, state, and beyond.
Fast forward a few months to January of this year. We were selected as a top ten finalist! However, now, we need your help. We have posted a video to the Beneficial Challenge web site, as have the other nine schools. Click there and you will see that this final phase of the competition will be decided by number of votes for our video.Voting opened on Monday, and closes at midnight on next Monday, 11 March. You may vote every day and multiple times every day.
Here's what you're looking for when you click on the links above: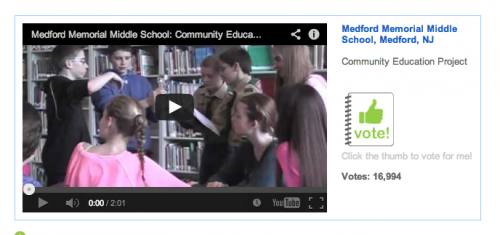 Let's take this opportunity to start up something new, and invest in the future of earth sciences.