What if you are asked to be part of a scientific expedition aboard a non-luxurious research vessel, surrounded by complete strangers, forced to face rough seas – and sea sickness, 16 hours' work shifts, no weekends or recreational activities, no days off, lots of hours under the sun working with scientific equipment, poor internet connectivity and no interaction whatsoever with the outer world? While many people would say: "no thank you", I was euphoric when I received an email which first line read: "Congratulations, you have been selected as a participant of the Sixth Aerosols and Oceans Science Expedition".
So begins Mayra Oyola's engaging story of work aboard the NOAA research vessel Ronald H. Brown for the AEROSE campaign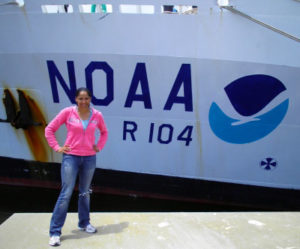 under the auspices of Howard University, NOAA, and other institutions. It was apparently a love affair not just with the science and the sea, but with a lidar, too:
[E]very scientist is …assigned at least one particular instrument and is expected to become the one and only expert on that matter.  In a sense, every scientist establishes a sort of "bond" with his/her assigned instrument that is very similar romantic affair. You can grow such a strong love and hate relationship with it. There are days when you two can get along just fine. But other days you have to fight against temptations (like throwing it overboard or smashing it with a sledge hammer). There are days when your appointed instrument gets seduced by Murphy (in other words, goes haywire) and you have to make him/her understand that s/he is in a monogamous relationship with you.  As some partners, these instruments can be gold diggers (they cost hundreds/thousands of dollars) and are high maintenance as well.
And, this enticing view of the ocean:
When people say I must be crazy to have loved so much sailing on this expedition, I just ask them a couple of questions: Have you seen bioluminescence or done some fishing in the middle of the Atlantic basin? Or have you ever had the chance to catch a movie under the stars in the middle of the Sea? Well, I had.  There are some great perks about sailing on the Brown. There is nothing as beautiful as lying on deck at night for the most spectacular stargazing sessions you will experience in this world.  There are unusual things that you will never see in your everyday life: like watching a double rainbow or the most impressive towering cumulonimbus cloud EVER at the Intertropical Convergence Zone (ITZC). I also loved watching different marine life forms like the flying fishes, dolphins and squids (oh yeah, we saw squids!). Oh and the sunsets… sunsets that will take your breath away!….But the highest reward is this:  we get to do REAL science to solve REAL problems, such as improving the quality of satellite operations,   understanding the effects of aerosols in hurricane formation and intensification and learning how tropospheric ozone can be linked to global warming, among many other things. There is nothing that can top that!
Check out the full story, and picture gallery, here, and kudos to Oyola for such drawing a compelling portrait of science at sea. We talk about the need to communicate science, and we'll talk more about it as the Annual Meeting approaches, but she's set a strong example already.