Historians have long known—thanks to diaries and other first-person accounts—that weather played a small but possibly significant role in the Battle of Wilson's Creek, August 10, 1861. This was the first important engagement of Union and Confederate forces west of the Mississippi River and was pivotal in determining the political alignment of Missouri early in the Civil War.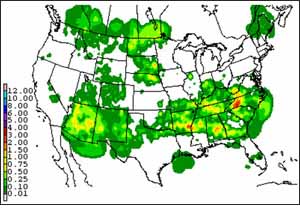 On the evening of August 9th the Confederate leader, General McCulloch, had decided to march on the nearby Union force, but rainfall starting around 9 p.m. convinced him to abandon the plan until morning, and to stay at camp to keep munitions dry. The rain delay enabled the smaller Union force, under Brigadier Nathaniel Lyon to creep up on Confederate encampment at dawn the next morning for a surprise attack.
All in all, the Confederates were able to rally themselves and ultimately force Union troops to back away—both sides suffering over a thousand casualties in the process. The Confederates parlayed their victory at Wilson's Creek into control of a substantial portion of Missouri in the initial part of the war.
What historians lacked, however, was a good explanation of the weather situation that affected strategy in 1861. No weather stations were reporting from the area. Now, thanks to the enterprising research into analog synoptic maps, Mike Madden and Tony Lupo of the University of Missouri may have given students of the Civil War a credible meteorologist's look at that fateful day in August 1861. For more on how Madden and Lupo did it, see the article by Randy Mertens in the Ozarks nature and science website, Freshare.net.