The National Hurricane Center released its post-storm report on Hurricane Sandy this week, confirming the many nuances of the late-season monster storm we already knew. Yet it's the details, provided by scientists attuned to getting the minutiae right, that make the report an inviting read.
For starters, the NHC report confirms that Sandy wasn't a hurricane at landfall. Its core convection collapsed as the center of the storm moved west of the warm waters of the Gulf Stream—the same warm waters that earlier on the day of landfall (October 29, 2012) cranked up Sandy's winds to 100 mph as the center closed in on New Jersey. Cold air wrapping into Sandy's center contributed to the collapsing convection, and this structural change transitioned Sandy from tropical to extratropical just 50 miles offshore of Atlantic City.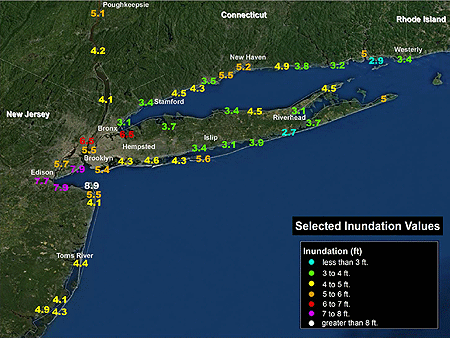 Estimated inundation in feet above ground level in New Jersey, New York, and Connecticut from Sandy. (Source: NHC Tropical Cyclone Report—Hurricane Sandy)

Post analysis of the storm's intensity in the Caribbean also explains why NHC has now upgraded Sandy to a Category 3 "major" hurricane with 115 mph winds from Category 2, which at the time had been considered the peak classification prior to landfall in southeastern Cuba. The destruction wrought there, described as "especially severe," included more than a quarter-million homes damaged and 17,000 sheared to pieces by the extreme winds. Gusts topped 110 mph before disabling the anemometer in Santiago de Cuba, the island nation's second-largest city, and reached an incredible 165 mph at Gran Piedra ("Big Rock," elev. 2,000 feet) in the national park east of the city. Sandy killed 11 people in Cuba, an unusually high number in a nation that has weathered numerous ferocious hurricanes with lesser loss of life. It was a testament to Sandy's fury.
Additionally, the report describes changes proposed to NHC's watch/warning criteria. If adopted, they will address limitations to the use of tropical storm and hurricane watches and warnings when tropical cycl0nes transition to extratropical (i.e., non-tropical or "post tropical") storms. Facing the potential for Hurricane Sandy to make such a transition prior to striking the Northeast, NHC opted not to issue hurricane watches and warnings north of North Carolina because the transition would force NHC to discontinue them even though the threat for severe wind and tidal conditions remained, which "would cause an unacceptable level of confusion and disruption during critical periods of preparation that included evacuations." The decision was widely criticized and cited as contributing to the large number of deaths due to storm surge flooding and falling trees in and around New York City.
The report has much more, including details about the record storm tides in New York City, New Jersey, and Connecticut, flooding rain in the mid-Atlantic states, and snow in the Appalachians, as well as a breakdown of U.S. deaths and an abundance of observations.
Town Hall Meeting on Sandy
Recordings of the the presentations made at the AMS Town Hall Meeting on Hurricane Sandy at the Annual Meeting in Austin are now available.
Hurricane Sandy Introduction
Tanja Fransen, NOAA/NWS, Glasgow, Montana
Introduction to Sandy and the Major Impacts
Louis W. Uccellini, NOAA/NWS/NCEP, Camp Springs, Maryland
Hurricane Sandy: Hurricane Wind and Storms Surge Impacts
Richard D. Knabb, NOAA/NWS/NHC, Miami, Florida
Post-Tropical Cyclone Sandy: Rain, Snow and Inland Wind Impacts
David Novak, NOAA/NWS/Hydrometeorological Prediction Center, College Park, Maryland
A Research-Community Perspective of the Life Cycle of Hurricane Sandy
Melvyn A. Shapiro, NCAR, Boulder, Colorado
Communicating the Threat to the Public through Broadcast Media
Bryan Norcross, The Weather Channel, Atlanta, Georgia
Following the Storm through Social Media
Jason Samenow, Washington Post, Washington, D.C.; and Andrew Freedman, Climate Central, New York, N.Y.
Storm Response in New York and New Jersey
Eric Holthaus, The Wall Street Journal, New York, N.Y.