With the New Year comes the season for annual awards and "Best of" lists of every kind, from Oscars to best beer to best iPhone apps. But how often do you actually get invited to the awards ceremony? Here in Atlanta you can practically walk the red carpet with the winners.
On Wednesday at 4:45 p.m. (Publisher's Row, Exhibit Hall), Atmospheric Science Librarians International (ASLI) will be presenting its fifth annual ASLI Choice awards for the Best Books of 2009.
This year's winner in the "science" category is Clouds in the Perturbed Climate System: Their Relationship to Energy Balance, Atmospheric Dynamics, and Precipitation, edited by Jost Heintzenberg and Robert J. Charlson. According to ASLI, it was selected for its "quality, authoritativeness, and comprehensive coverage of new and important aspects of cloud research."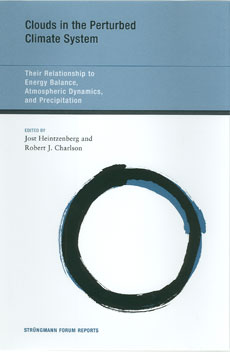 A new category for "popular" books was added to this year's awards, and the winner is this class is Planet Ice: A Climate for Change, with photography by James Martin and essays by Yvon Chouinard. It was chosen for "beautiful photography accompanied by thoughtful essays on a topical and timely subject."
Runners-up in the "science" category are Aerosol Pollution Impact on Precipitation :  A Scientific Review, edited by Zev Levin and William R. Cotton, for an "authoritative, well organized, forum-based approach to the evaluation of a problem of global significance"; Hydroclimatology: Perspectives and Applications, by Marlyn L. Shelton, for a "well-considered, well-referenced text on an important topic"; and Climate Change and Biodiversity: Implications for Monitoring Science and Adaptive Planning, by D. C. MacIver, M. B. Karsh and N. Comer, for "good, clear authoritative statistical compilations, graphics, and charts on a important subject."
And if we may blow our own horn for a moment, the runner-up in the "popular" category is Jack Williams's AMS Weather Book: The Ultimate Guide to America's Weather, with ASLI noting "its accessible and informative approach to all aspects of weather, and the richness of its illustrations."
Publisher's Row will also be the place to find the AMS books booth as well as  some of the other leading publishers of atmospheric science books. In fact, along with the AMS Weather Book, two of the other ASLI's Choice winners are published by companies that will be displaying their titles at the meeting:  Aerosol Pollution Impact on Precipitation (published by Springer) and Hydroclimatology (published by Cambridge University Press).
Congratulations to all the winners!