Geostationary Operational Environmental Satellite 16, now GOES-East, became operational in December and this eye in the sky is capturing stunning color weather imagery daily. Today, it's the third nor'easter in two weeks explosively developing into a blizzard off the Northeast Coast.



Following on the heels of the deadly and damaging storm of March 2, which cranked out onshore wind gusts of nearly 100 mph flooding the eastern New England coastline while dropping more than three feet of snow inland, and last week's barrage of heavy wet snow that knocked out power to more than a million customers, today's storm is delivering blizzard conditions to eastern New England, with the potential to bury the region with as much as two feet of late-season snow.
And it's hitting on an auspicious date. Twenty-five years ago today the infamous Superstorm of 1993 (March 13-14) exploded into the history books with crippling snowfall and ferocious winds from the Gulf Coast to the Northeast, and with severe thunderstorms, tornadoes, and deadly storm surge in Florida.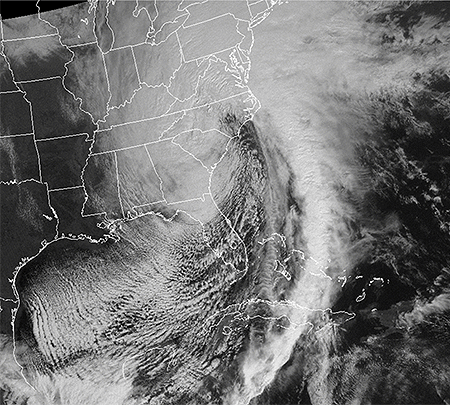 GOES H, which launched on February 26, 1987, and became operational as GOES-7 captured the image of the Superstorm above.
Also known as the "Storm of the Century," it set record-low barometric pressures across the Southeast and Mid-Atlantic states and ranks among the costliest and deadliest storms of the twentieth century, killing hundreds of people. Jeff Halverson of NASA reports in a Washington Post article the five most remarkable attributes of the Storm of the Century, including that in 2017 dollars the storm cost $10 billion.
The NWS office in Wilmington, North Carolina has an online report of the Superstorm, including its meteorological history, animated satellite imagery, observations, weather maps, links to local newspaper stories, personal accounts, photos, video, and links to technical reports on the storm.
Three papers were published in BAMS just two years following the epic storm. One was an overview of the meteorology of the storm, another looked at forecasting the storm from an operational perspective, while the third looks at what computer models of the day were seeing beforehand.
Similar to today's blizzard, and arguably even better for such a huge event, the Superstorm of 1993 was well forecast; as many as 5-6 days in advance computer models of the day depicted it run-after-run.
What's different today is the crisp imagery of weather systems in the Eastern United States from the most advanced GOES satellite in orbit so far. GOES-East employs an Advanced Baseline Imager (ABI) that is state-of-the-art, enabling visible and infrared imagery as well as the generation of many high-level products. A paper published in BAMS in 2017 takes a closer look at the ABI on the GOES-R series, highlighting and discussing the expected improvements of each of its attributes.