Most of us can barely imagine the experience AMS Fellow Ada Monzón went through to warn–and then come to the aid of–her fellow citizens in Puerto Rico during Hurricane Maria of 2017. On the latest episode of our podcast, AMS on the Air, the award-winning broadcast meteorologist for WIPR-TV tells BAMS Senior Editor Chris Cappella,
With Maria, I was really scared. All of us have special circumstances right?…in our families. My mother is, almost, all the time in bed and my cousins are sick. They have to be with me; I have to contend with my problems, right? Because I was working. So you have to consider all these factors in all the decisions and all of the things are going through your head while maintaining the right attitude and being calm for the benefit of the rest of the island.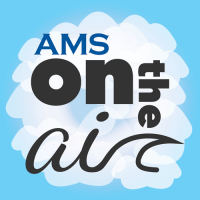 Listen from the AMS website or your favorite podcast app as Monzón talks in depth about the personal and professional challenges of the hurricane–and a situation that in many varieties AMS members eventually must face: Warning your own neighbors, communities, and audiences of impending disaster as its bears down on your own families and homes.
Then check out her keynote to the 2019 AMS Student Conference in Phoenix this January. Monzón explains how she turned the storm she calls "hell" into a "transformative experience" for herself and for her renowned science education museum programs for Puerto Ricans.