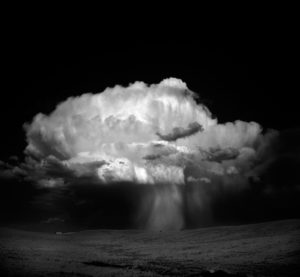 Microbursts, photography, supercooling, sculpture, Alberta Clippers, painting, sea level rise, and more. If you're curious about the connection between these things, then you'll want to see Forecast: Communicating Weather and Climate, a visual art exhibition with a scientific twist opening in January at the Washington State Convention Center alongside the 91st AMS Annual Meeting. Best of all, the artists making the exhibit have joined forces with your scientific colleagues to develop the connection between art and science.
Nearly half of the artists selected for the exhibition accepted the invitation to work with AMS members to create new works for this occasion. Nine of these collaborations will be on view at the Convention Center. AMS conference chair Peggy Lemone and committee member Steve Ackerman identified collaborating scientists who study what the artists are interested in exploring. Forecast collaborating scientists hail from universities and research centers in seven states in the US and Australia.  In addition to Washington, the states are: Colorado, Illinois, Montana, New York, and Wisconsin. The scientists' areas of study include Arctic sea ice; atmospheric boundary layer; atmospheric chemistry; climate dynamics and change; cloud physics; eco-meteorology; hydrology; mesoscale analysis, convection, forecasting, and meteorology; oceanography; optical sciences; paleoclimate; precipitation physics; radar; regional climate; weather; and wind energy.)
Following the theme of the Seattle meeting, "Communicating Weather and Climate," Forecast will engage scientists, artists, and the general public in dialogue on innovative ways to communicate and understand weather and climate issues. The exhibit will feature the works of more than 30 regionally, nationally, and internationally recognized artists based in Washington or featured in Seattle art collections.
"I can say from personal experience that working with an artist, you discover the commonality between the sciences and the arts. The creative process is similar: we both want to 'see' the world in new ways and to communicate our vision to others," comments 2010 AMS President Peggy LeMone. "These scientist-artist dialogues give us a better chance of communicating this vision—and through the arts we can avoid the barriers people might have to learning something new."
The exhibit is a collaboration between AMS and EcoArts Connections (EAC), which brings together science, arts, and other organizations to advance understanding of climate change and sustainability through performances, exhibits, talks, consulting, and other activities.
"In addition to being aesthetically nourishing, the exhibition will also be scientifically engaging, helping the public better experience a broad array of weather and climate activities." says Marda Kirn, executive director of EAC. "The works will share not only the beauty of natural forces, but also the impact of weather and climate upon public health and safety, economic growth, national security, sustainability, and air and water quality."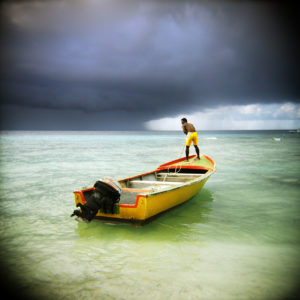 The exhibit will open on Monday 24 January and will continue thru 9 April 2011. On that first day (5-7 pm) there will be a private opening reception at the exhibit for AMS donors and collaborating artists and scientists followed by a public reception from 7-9 pm.
Forecast is made possible in part by the American Meteorological Society, Brainerd Foundation, NASA, JOSS, and UCAR.