Celebrating the 50th Conference on Broadcast Meteorology
We're back with the second of three posts highlighting memories from longtime broadcast meteorologists, as we celebrate last month's 50th Conference on Broadcast Meteorology! Today's post highlights how the field of broadcast meteorology has evolved over the decades since these meteorologists started out.
"If you told me in 1983 at the beginning of my career that, forty years later, I would hold a portable little computer in my hand that dwarfs the computing capacity of what was in the spacecraft that took astronauts to the moon, watch live radar on that little computer, and then send personal messages with those radar images and warnings to large groups people in seconds, I would have laughed at you. Everybody talks about model and radar improvements that have occurred during this time period, but the development of instantaneous communication of weather information is mind-blowing and has truly benefited the public."

Paul Gross, AMS Fellow, CCM and CBM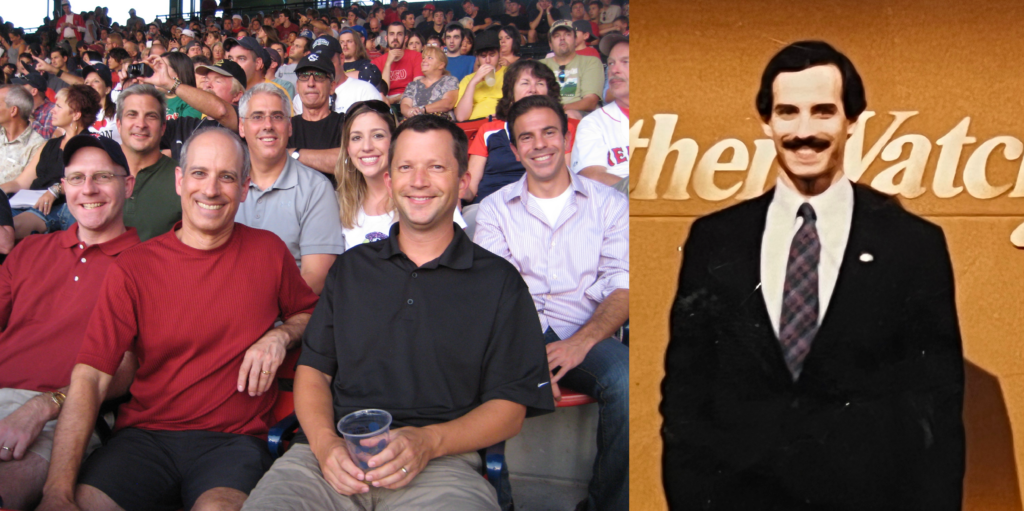 "During my first internship at WMC in Memphis in the early 1980s, the station was still using a magnetic surface map during their weathercast. Of course, now we use augmented reality graphics. Forecasting in the 1980s when I started my career consisted of large printed surface maps and spaghetti charts; we would use colored pencils to make analysis. Now everything is available online and from multiple sources.

"When I first started attending AMS Broadcast Conferences in the early 1990s, Bryan Busby (KMBC-TV) and I had a running joke where we greeted each other as "the other Black guy," because we were the only two African-Americans there. I am thrilled to see the growth in diversity in our field and our conferences over the decades, to where we can't say that anymore!"

Alan Sealls, AMS Fellow, CBM, Past Seal Board Chair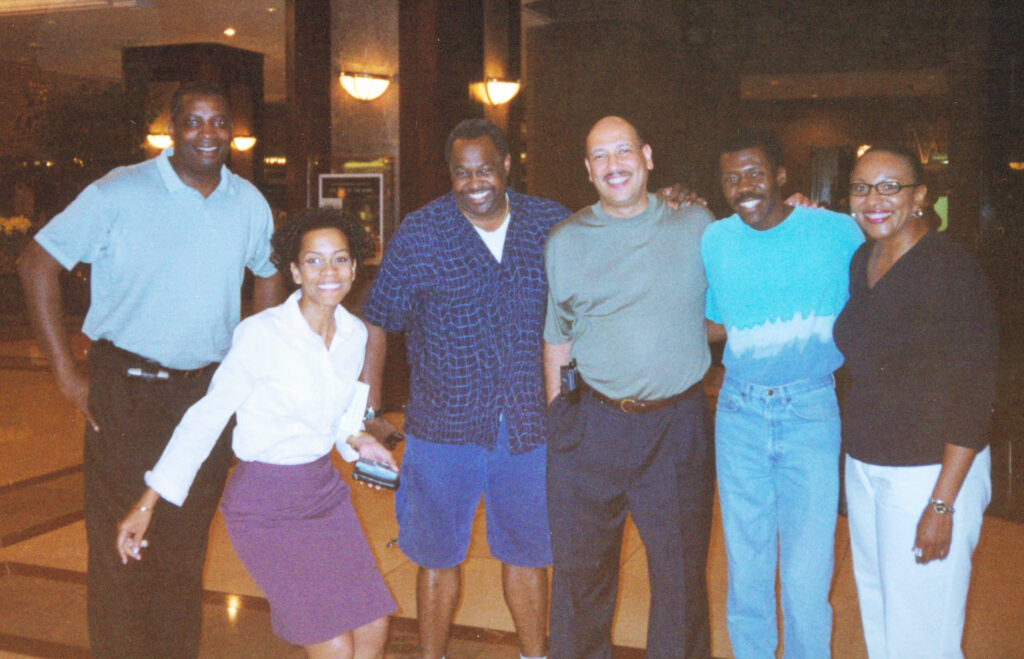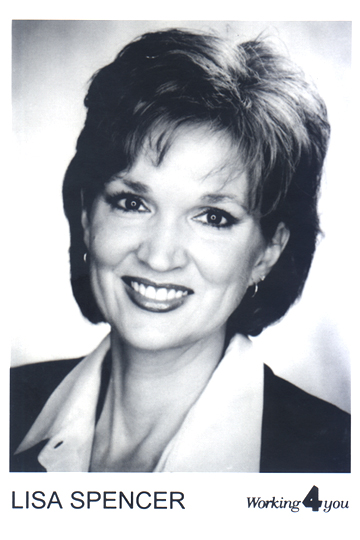 "I can remember having 5 p.m., 6 p.m., and 10 p.m. newscasts. I was responsible for one 3 ½-minute weathercast during each news show and maybe updating a phone line forecast. Now, I have a 3 p.m., 4 p.m., 5 p.m., 6 p.m., 6:30 p.m., and 10 p.m. newscasts with not only a generally 3-minute weathercast, but usually a first weather and teases. In addition, I am responsible for updating weather forecasts on a phone line, for radio, multiple social media platforms, the website and streaming service."
Lisa Spencer, Chief Meteorologist, News4, Nashville, Tennessee
Photo courtesy of Lisa Spencer.
"I started in Seattle in 1971… the satellite images used on the air at KING-TV were single 4×5-inch B&W Polaroids taken at the local NWS office, a 10-minute drive downtown.

Stumping Bryan Gumbel and Jane Pauley with weather science on NBC's TODAY in the '80s was always fun, especially demonstrating the shape of rain drops by creating air bubbles in a 6-foot-tall clear plastic tube of Karo syrup (a sticky clean-up.)"

Joe Witte, Climate Outreach Specialist, Aquent, Pasadena, California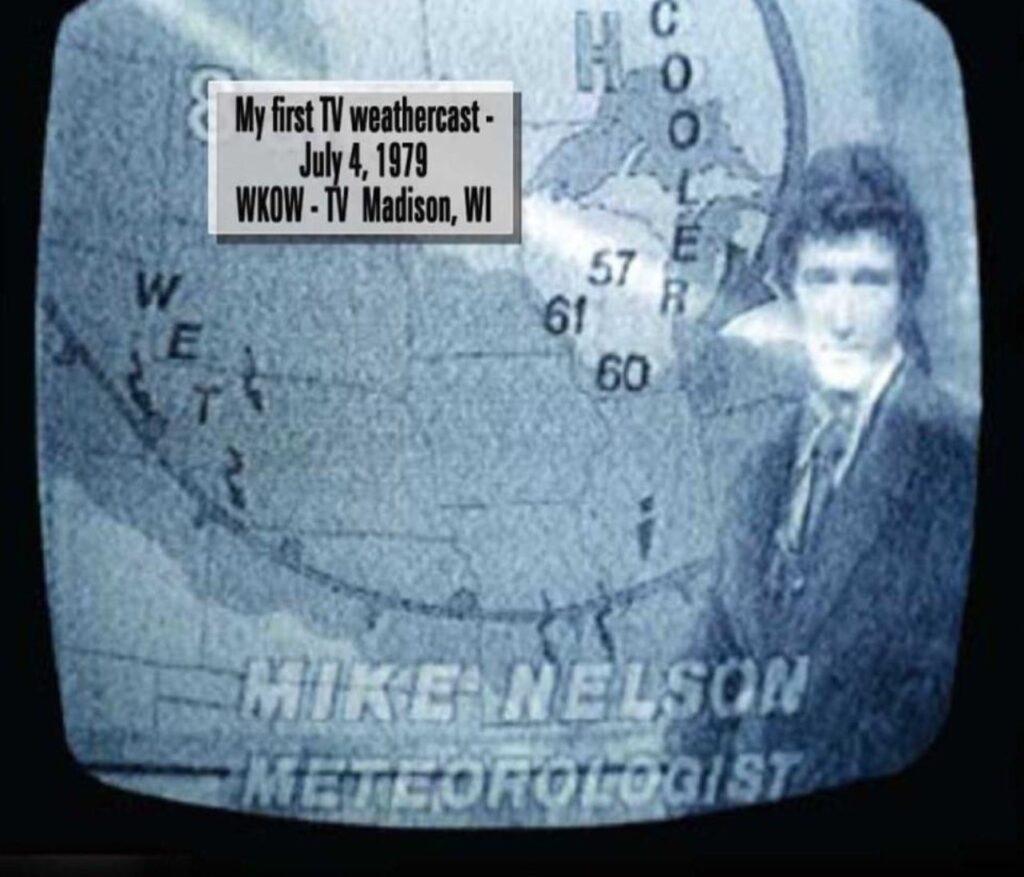 "I started my career at WKOW-TV in Madison, WI in 1976. … My first job was to erase the weather boards and help draw weather maps that would be used [by Terry Kelly, President of Weather Central, in his] weather reports. These maps were hand-drawn on lightweight cardboard and were then taped to the wall of the studio in a series of 5-6 maps. The cameraman (there were few women camera operators back then) would pan from left to right across the series of maps to help tell the story. If the masking tape let go, the map would fall to the floor – the viewers were certainly startled to see that! Making these maps took many hours and it was nearly impossible to change the map if the weather changed.
In 1979, Terry Kelly teamed up with some computer scientists at The UW Space Science and Engineering Department to create the Apple II Weather System which became one of the first TV Weather Computer Systems. … My job in the late 1970s through the mid-1980s was to travel around the country to install the various generations of these computers and train the meteorologists in this new technology. I installed over 50 units during this time and had the honor of meeting and training many of the legends of our industry such as Al Roker, Don Kent, Gary England, Bruce Schwoegler, Bob Copeland, Harry Volkman, Dick Albert, George Winterling, and Valerie Collins. It was truly an amazing time as the computer systems were rapidly changing and the competition between computer companies was intense!"
Right image: Mike Nelson with the Apple II Weather System. Photo courtesy of Mike Nelson.
Mike Nelson, Denver7 Chief Meteorologist, KMGH, Denver, Colorado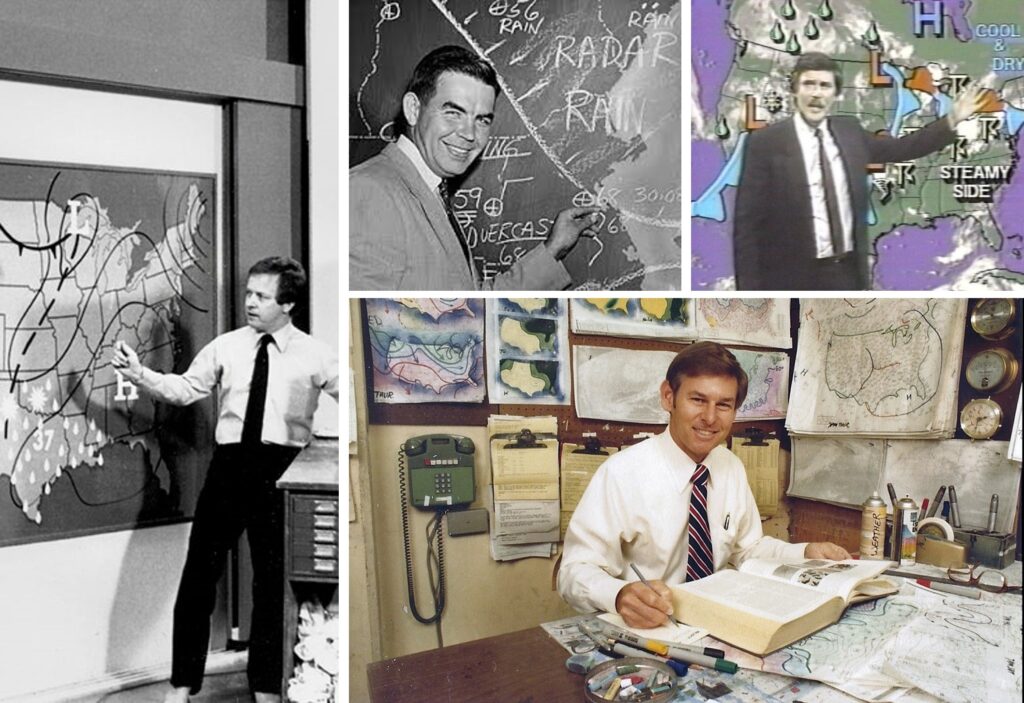 "[My] first TV job was with the old WGAN-TV in Portland, Maine, as the first meteorologist on staff… [It] entailed washing down the regional and national weather maps–floor-to-ceiling and made of linoleum, and covered with the tempera-marker info from the night before. Mop-and-bucket work was just part of the shift. Paper weather maps, magnetic suns and moons, and air-brushed clouds followed before actual digital graphics arrived.
As a broadcast meteorologist back then, one had to be proficient in more than forecasting. Changing out helixes in the fax machine, repairing the teletype (without sending 72 volts through your body), changing toner in the satellite receiver, and unending paper cuts were all part of your day."

Dr. Lou McNally, Former President, AMS Boston Chapter
Dr. Lou McNally at WIVB in Buffalo, circa 1983, with magnetic baseman.
Photo courtesy of Dr. McNally.
Photo at top of post: Mike Nelson, Terry Kelly, and Dr. Richard Daly in the Weather Central newsroom. Photo courtesy of Mike Nelson.
---
About 50Broadcast
The 50th Conference on Broadcast Meteorology took place in Phoenix, Arizona, June 21-23, 2023. It was organized by the American Meteorological Society Board on Broadcast Meteorology and chaired by Danielle Breezy and Vanessa Alonso.