A new survey by the American Geosciences Institute shows that recent graduates in the geosciences are finding employment at the same rates as before the COVID-19 pandemic, but a separate survey from Nature finds that amid tightening funding science postdocs are nervous about ongoing research as well as career opportunities.
The AGI survey covered graduates from the classes of 2018, 2019, and 2020, and found no "deviation from long-term employment trends of recent geoscience graduates."
As of August 2020, 94% of geoscience graduates who earned their degree between 2014-2018 were employed, while 77% of graduates from 2019 and 44% of graduates from 2020 reported the same. For geoscience graduates who earned their degree this year, 16% of bachelor's, 57% of master's, and 91% of doctorates have secured employment.

For comparison, data from the 2013-2018 AGI Geoscience Exit Survey shows that 20% of geoscience graduates secured employment by the time they graduated. This data varied by degree level, with 12% of bachelor's, 36% of master's, and 56% of doctorates securing employment by the time they graduated. Only 1% of employed recent geoscience graduates lost their job since February 2020.
While three-quarters of the still-unemployed graduates of the last three classes were still looking for jobs in the geosciences, half said they were instead, or additionally, now seeking employment outside the field. Of those seeking employment outside the field, more than 80% said this was due to lack of jobs in the geosciences, and about three-quarters felt they did not have sufficient training for the available jobs.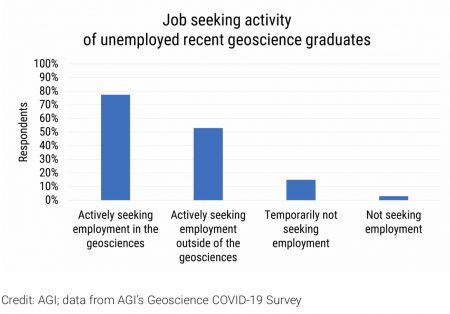 The AGI employment statistics are provided by geoscience graduate job seekers, part of a series AGI is publishing on the effects of the pandemic in the geosciences. The Nature survey, by contrast, sampled views of postdocs worldwide and "paints a gloomy picture of job-loss fears, interrupted research, and anxiety about the future." It finds that:
Eight out of ten postdoctoral researchers say that the global coronavirus pandemic has hampered their ability to conduct experiments or collect data. More than half are finding it harder to discuss their research ideas or share their work with their laboratory head or colleagues, and nearly two-thirds believe that the pandemic has negatively affected their career prospects.

The pandemic has shuttered or reduced the output of academic labs globally, slashed institutional budgets and threatened the availability of grants, fellowships and other postdoctoral funding sources. The fallout adds up to a major challenge for a group of junior researchers who were already grappling with limited funds, intense job competition and career uncertainties.
The Nature survey drew responses from 7,670 postdocs working in academia from mid-June through the end of July. Some respondents were selected for follow-up interviews, which "filled in an unsettled, precarious picture of postdoctoral research in the era of coronavirus."
"The [pandemic] has compounded the pressures that postdocs were already under," reported one of the interviewees, Hannah Wardill, a cancer researcher at the South Australian Health and Medical Research Institute in Adelaide.