For 11 years, Atmospheric Science Librarians International (ASLI) has been selecting the best books in the atmospheric sciences based on nine criteria: uniqueness, comprehensiveness, usefulness, quality, authoritativeness, organization, illustrations/diagrams, competition, and references. At their awards ceremony this afternoon at the Annual Meeting, ASLI announced their winners for 2015, giving us a new selection of titles to put on our must-read list.

The ASLI Choice winner in the main category was An Introduction to Lightning, by Vernon Cooray, published by Springer, which ASLI recognized for being "a clearly written book that provides its readers with a thorough and accessible understanding of lightning." In the history category, the winning title was Weatherland: Writers & Artists under English Skies, by Alexandra Harris, published by Thames & Hudson, which ASLI called "a highly original, inviting book that brings readers to the weathers of England through art and word." And in the popular category, the winning book was Thunder & Lightning: Weather Past, Present, Future, by Lauren Redniss, published by Random House, which ASLI recognized for "designing rich, original art to accompany vivid description that creates a one-of-a-kind treatise on weather."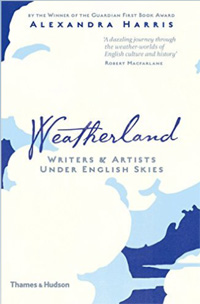 In the main category, Honorable Mention went to Climate Change and Public Health, by Barry S. Levy, published by Oxford University Press, for "bringing scientific, medical, and public policy aspects together in a useful treatment of this important topic."
In the history category, Honorable Mention was awarded to an AMS Books title, A Scientific Peak: How Boulder Became a World Center for Space and Atmospheric Science, by Joseph P. Bassi,  praised by ASLI for being "a well-researched and written description of this western city's road to atmospheric science fame." You can purchase A Scientific Peak this week at the AMS Resource Center in the Exhibit Hall!
Honorable Mentions in history also went to Sea of Storms: A History of Hurricanes in the Greater Caribbean from Columbus to Katrina, by Stuart B. Schwartz, published by Princeton University Press, for "enabling readers to discover
 more about this part of the world through its tempests"; and The Weather Experiment: The Pioneers Who Sought to See the Future, by Peter Moore, published by Farrar, Straus and Giroux, which was recognized for "a vivid account of those early scientists and the weather they sought to understand."
In the popular category, Honorable Mention was awarded to Rain: A Natural and Cultural History, by Cynthia Barnett, published by Crown Publishers, honored for being a book "that celebrates rain in all its history, forms and life"; and Melting Away: Images of the Arctic and Antarctic, by Camille Seaman, published by Princeton Architectural Press, for "the author-photographer's composition, creativity, and artistry that depict the beauty of and pressures upon both our polar realms."
Visit the ASLI Choice Awards website to view past winners and to learn how to nominate a book next year.