by Tom Champoux, AMS Communications Director
You may have noticed that AMS rolled out a new website today, updating content and navigation in a brand new design. We hope you like it. This is a critically important step for AMS as we continue to improve the communication of our value to our members, to the greater weather, water, and climate community, and to society.
Many tens of thousands of people in our community work extremely hard to create and share knowledge to benefit society. Our website is a tremendously important vehicle in supporting that effort—engaging, informing, and inspiring people. It is a place for the entire community to connect, share, and collaborate. The redesign helps the website do all this by capitalizing on more up-to-date technology and creating a more modern online experience.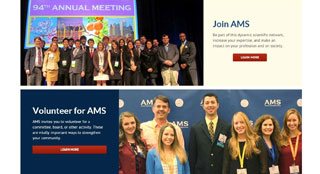 The new look points the website in a new direction, as well. Immediately you'll notice the shift in the homepage, which previously tried hard to be all things for all people, inevitably with limited success. The new home page focuses less on engaging members directly. Instead, we put more focus on educating all visitors about how AMS supports and strengthens this vibrant community. As a result, navigation is simpler and cleaner; there are more images to convey the excitement, dedication, and enthusiasm that is so apparent across the entire enterprise.
Throughout, the colors are more modern, and the look and feel better represent the tremendous passion and commitment of AMS members and their community.  We wanted to accurately capture that spirit in this new site, and of course make it is easy to find what's new at AMS.
We felt the website would serve AMS best by
delivering the AMS's core assets;
educating and inspiring audiences inside and outside the community;
expressing the value of AMS to society at large; and
creating community, bringing audiences together.
Those audiences extend far beyond our membership. While AMS has more than 13,000 active members, we reach a much larger and vibrant community that includes more than 28,000 Facebook and 10,000 Twitter followers. There are also thousands more volunteers, meeting attendees, presenters, authors, and many others who are deeply engaged with AMS and our work, but are not currently active members. These audiences span the career spectrum, from students to late-career professionals. We reach thousands of educators as well as all kinds of enthusiasts. We believe AMS has much to offer everyone and we wanted to be sure the website effectively showed all the ways we can help the community and society.
We'll continue adding new content, updates, and information in the coming weeks and months to ensure that the AMS website remains a dynamic, engaging online experience for all audiences. We welcome your feedback and comments.