Atmospheric Science Librarians International (ASLI) today celebrated their 10th year of honoring the best books in the fields of meteorology, climatology, and the atmospheric sciences at the ASLI Choice Book Award Ceremony at the Annual Meeting. Each year, ASLI chooses the best books based on nine criteria:  uniqueness, comprehensiveness, usefulness, quality, authoritativeness, organization, illustrations/diagrams, competition, and references.  

The winner of the main award for 2014 was Oxygen: A Four Billion Year History, by Donald E. Canfield, published by Princeton University Press, which ASLI praised for being "a well-documented, accessible, and interesting history of this vital substance."  There were also awards given in two other categories. The winner of the History award was The History of Global Climate Governance, by Joyeeta Gupta, published by Cambridge University Press, for "bringing together a history and summary that readers are likely to reference often."
  The top award in the Popular category went to Storm Surge: Hurricane Sandy, Our Changing Climate, and Extreme Weather of the Past and Future, by Adam Sobel, published by HarperWave, which was recognized by ASLI for "providing its readers with a detailed, clear understanding of the meteorological basis for Hurricane Sandy and the importance of our response to it."
In the Science category, Honorable Mention awards were given to Dendroclimatic Studies: Tree Growth and Climate Change in Northern Forests, by Rosanne D'Arrigo, Nicole Davi, Gordon Jacoby, Rob Wilson, and Greg Wiles, and published by the American Geophysical Union, for "a clear summary of research from a renowned institution on this important topic"; and Air Quality Management: Canadian Perspectives on a Global Issue, edited by Eric Taylor and Ann McMillan, published by Springer Netherlands, for "bringing together expert views on many aspects of this topic from a Canadian perspective."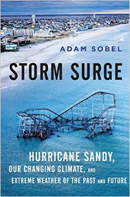 Honorable Mention in the History category was given to Tambora: The Eruption that Changed the World, by Gillen D'Arcy Wood, published by Princeton University Press, which ASLI described as "a book that makes this extreme event newly accessible through connecting literature, social history, and science." And Honorable Mention in the Popular category was awarded to a title from AMS Books: Partly to Mostly Funny: The Ultimate Weather Joke Book, edited by Jon Malay with jokes from Norm Dvoskin, was praised by ASLI for being "a handy compilation of lighthearted humor about the weather and its place in our lives."
After you're finished reading the best of 2014, be sure to let ASLI know what you liked in 2015 by sending them nominations for next year's awards; you can get more information here.