Wednesday afternoon, AMS Books will take a bow. Taken by Storm 1938: A Social and Meteorological History of the Great New England Hurricane, authored by Lourdes B. Avilés and published by the AMS, will receive an ASLI Choice Award in the historical category.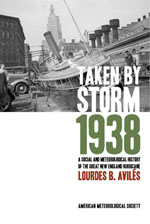 The book, which documents both the science of the storm and its social impacts, was recognized by ASLI for "its comprehensive account of this major storm, from its inception to aftermath." (You can learn more about the book and see an interview with Avilés here.)
The winning title in the science and technology category is Mathematics and Climate, by Hans Kaper and Hans Engler, published by the Society for Industrial and Applied Mathematics. ASLI lauded the book for "its accessible explanations in key areas where climate and mathematics meet."
 There was also an honorable mention in the historical category: Probing the Sky with Radio Waves: From Wireless Technology to the Development of Atmospheric Science, by Chen-Pang Yeang, published by the University of Chicago Press, selected for "its very thorough, technical history of radio waves and their importance to ionospheric science."
This is the ninth year that Atmospheric Science Librarians International has recognized the best books in in the fields of meteorology/climatology/atmospheric sciences. The award presentation will take place Wednesday at 4:45 at the ASLI booth (#732) in the Exhibit Hall, and before that, from 2:45 to 4:00, Avilés will be signing her book at the AMS Resource Center in the Exhibit Hall. Stop by, meet the author, and purchase a copy of her award-winning book!