Sunday was supposed to be National Weatherperson's Day. Did you receive flowers? Did distant relatives call to congratulate you? Did adoring fans of your forecasts voice their support?
Or did the much anticipated holiday pass uneventfully while everybody was preoccupied by lesser events…oh, like the Super Bowl, for instance? Just a case of bad scheduling conflicts, or a conscious attempt to diss you?
If you're a meteorologist, especially a forecaster, you know how it feels to be underappreciated, to be told you're not right often enough, that your job is going to be taken by a computer. Not only might you get ignored on the very day meant for you, now you get replaced…by a cube: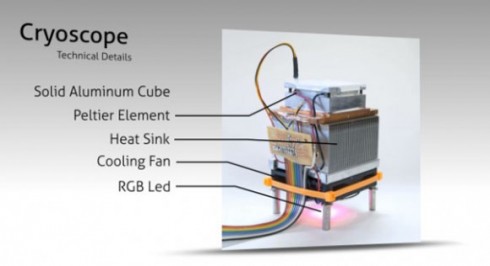 Hook the device to your smart phone weather app and it adjusts its temperature to match the forecast temperature. So that's how the weather feels! And how does it feel to be replaced by an aluminum box with a heating element and simple sink inside it?
Bob Dylan stuck the knife in with "You Don't Need a Weatherman to Know Which Way the Wind Blows," but he twisted it cruelly with:
How does it feel
How does it feel
To be on your own
With no direction home
Like a complete unknown
Like a rolling stone.
A forecaster's fate? We think not.
Clearly this invention leaves much to be desired. In addition to being unable to prognosticate without a web app, after a decade or more of good minds trying to develop better ways of conveying uncertainty information in weather forecasts in a few words or pictures, here comes a giant deterministic step backward for communicating tomorrow's conditions. And of course, although inventor Robb Godshaw of Rochester Institute of Technology insists that the Cryoscope compensates for the difference between conducting heat with aluminum versus air (and also effects of wind chill), it is difficult to imagine equating the touch of the hand to how it feels to move and breathe in the atmosphere. No, this box is not how it feels at all.
In fact, there's a lesson here. Much as it is difficult to teach any scientific concept to a wide audience, let's keep in mind that over the years people have developed an uncanny sense of how they feel, personally, when it's 40, or 50, or 60 degrees Fahrenheit and so on (not to mention wiser folks who've learned all this in terms of Celsius). In fact, people probably have a much more acute ability to imagine what a 10 degree rise in temperature will feel like than what carrying a 10 pound increase in load will feel like.
The depth to which the temperature scale is ingrained with exquisite sensitivity into our consciousness is summed up by a viewer's comment on the Cryoscope promo video page:
The step after that would be to hook up a water hose to it to tell you when it is rainy.