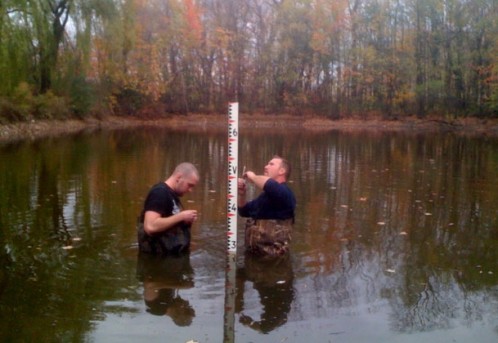 Let no one claim that student hydrologists do not gain a deep understanding of their subject. The University of Wisconsin-Parkside press release explains:
Students continue to use the campus environment as a natural laboratory. The latest case of this is the recent installation of a water level gauge in Greenquist Pond by researchers from Geosciences Professor John Skalbeck's Environmental Sampling, Monitoring, and Assessment (GEOS 445) course.
Students Jacob Jazefowski, left in the above photo, and John Rasch pulled on hip waders and immersed themselves in their research work. Greenquist Pond will soon be filled and the gauge they installed will monitor future pond water levels.
Students in this course are assessing groundwater levels from campus monitoring wells and measuring water quality in the pond and in the Pike River. They are investigating wetland soils, vegetation, and hydrology characteristics near the Pike River and in the Willow Swamp near the campus' Wood Road entrance and are evaluating the potential for additional rain gardens to capture storm water from Ranger Hall.
"The different types of soils, water lands, and bodies of water on our campus provide an ideal outdoor laboratory for this course, which is highly experiential-based," Skalbeck said.