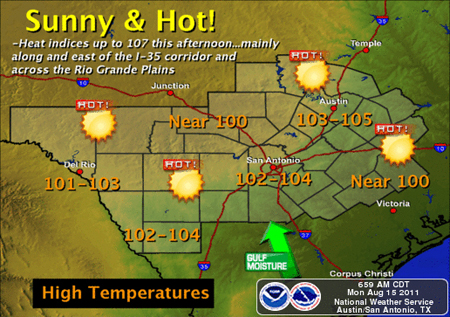 Monday's NWS weather map looked all too familiar to most Texans. It's been a summer of blazing sunshine and record-setting heat throughout most of the state, with so many new milestones being reached that it's been hard to keep up.
According to the National Climatic Data Center's national overview, July was the warmest month in state history (87.1°F; the previous average high was 86.5°F in July of 1998). Additionally, state climatologist John Nielsen-Gammon recently announced that Texas just went through its worst one-year drought on record (rainfall data goes back to 1895). At the end of July, the state had received only 15.16 inches of rain over the previous 12 months, breaking an 86-year-old record. And the year-to-date precipitation total of 6.53 inches was also a record low through the end of July, and 9.5 inches less than the historical average. According to the U.S. Drought Monitor, more than 75% of Texas is now in "exceptional" drought conditions, and last month's rainfall total of 0.72 inches was the 3rd-driest July in state history.
"Never before has so little rain been recorded prior to and during the primary growing season for crops, plants, and warm-season grasses," said Nielsen-Gammon.
And there appears to be no immediate end to the oppressive heat: recent forecasts predict at least another week of 100-degree temperatures in most of the state.
The conditions in Texas are typical of what much of the South has been experiencing this summer. Here are a few other numbers to chew on (preferably while you're sitting in the shade with a tall glass of lemonade):
According to NCDC, Oklahoma's average temperature in July was 88.9°F, which is not only the warmest month in the state's history, but the warmest month in any state, ever! (Oklahoma also held the previous record, which was 88.1°F in July of 1954.)
The South climate region–which comprises Arkansas, Kansas, Louisiana, Mississippi, Oklahoma, and Texas–had an average July temperature of 86.1°F, making it the hottest month of any climate region on record. The previous record, also set in the South region, was 85.9°F in July of 1980.
The average July temperature for the nation was 76.96°F, the 4th-warmest July–as well as the 4th-warmest month–on record, after Julys in 1936 (77.43°F), 2006 (77.26°F), and 1934 (77.00°F).
Every state in the country had at least one day of record-high temperatures in July. More U. S. climate records set during the month can be found here.