The John C. Freeman Weather Museum at the Weather Research Center in Houston, Texas, recently honored three weather heroes for outstanding service in 2010.
The Weather Hero Award is given to individuals or groups who have demonstrated heroic qualities in science or math education, volunteer efforts in the meteorological community, or assistance to others during a weather crisis. The 2010 Weather Heroes honored were the American Meteorological Society, KHOU-TV in Houston, and Kenneth Graham, meteorologist-in-charge of the NWS New Orleans/Baton Rouge office.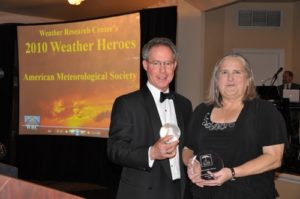 The AMS was recognized for developing and hosting WeatherFest for the past ten years. WeatherFest is the interactive science and weather fair at the Annual Meeting each year. It is designed to instill a love of math and science in children of all ages, encouraging careers in these and other science and engineering fields.  AMS Executive Director Keith Seitter accepted the award on behalf of the Society. "While we are thrilled to display this award at AMS Headquarters," he comments, "the real recipients are the hundreds of volunteers who have given so generously of their time and have made WeatherFest such a success over the past decade."
KHOU-TV was honored for hosting Weather Day at the Houston Astros baseball field in fall of 2010. Weather Day was a unique educational field trip and learning opportunity that featured an interactive program about severe weather specific to the region. Over the course of the day, participants learned about hurricanes, thunderstorms, flooding, and weather safety—highlighted by video, experiments, trivia, and more.
Graham received the award for his support of the Deepwater Horizon Oil Spill cleanup. As meteorologist-in-charge of the New Orleans/Baton Rouge forecast office in Slidell, Louisiana, Graham started providing weather forecasts related to the disaster immediately following the nighttime explosion. NWS forecasters played a major role protecting the safety of everyone working to mitigate and clean up the oil spill in the Gulf of Mexico.
The awards were presented at the center's third Annual Groundhog Day Gala and its fifth annual Weather Hero Awards on 2 February 2011.
The Weather Research Center opened The John C. Freeman Weather Museum in 2006. As well as housing nine permanent exhibits, the museum also offers many exciting programs including weather camps, boy/girl scout badge classes, teacher workshops, birthday parties and weather labs.