Got a long flight home after the meeting? Looking for some reading material to help pass the time? Then you should stop by the Atmospheric Science Librarians International booth (# 121) in the main Exhibit Hall at 4:45 p.m. on Wednesday for the 2011 ASLI's Choice Book Awards. The ceremony will offer an opportunity to hobnob with some of the literati, as a number of authors of the honored books will be present to accept their awards.
The ASLI's Choice Committee selected the best titles from 2010 in three categories: science, history, and popular.

The winner in the science category is Measurement Methods in Atmospheric Sciences: In Situ and Remote, by Stefan Emeis, which ASLI chose for being "a comprehensive overview of the many atmospheric monitoring and measurement methods and instruments."
The top choice in the history category is Vast Machine: Computer Models, Climate Data, and the Politics of Global Warming, by Paul N. Edwards, selected for its "insightful analysis of the models and data that form the basis of our understanding of climate change."
In the popular category, the winner is The Encyclopedia of Weather and Climate Change :  A Complete Visual Guide,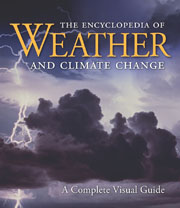 by Juliane L. Fry, Hans-F Graf, Richard Grotjahn, Marilyn N. Raphael, Clive Saunders, and Richard Whitaker, which ASLI describes as a "beautifully illustrated, authoritative and succinct introduction to meteorology and climate."
For the second year in a row, an AMS title will be feted, as Weather on the Air: A History of Broadcast Meteorology received an honorable mention in the history category. Author Robert Henson will be at the ceremony to accept his award, and he'll also be signing copies of the book on the skybridge near the AMS Resource Center (Exhibit Hall 4D) on Wednesday from 2:45 to 4:00 p.m.