Is it possible that dreaming of a white Christmas can backfire? Parts of the United Kingdom may find out over the next week if bitter cold temperatures and heavy snowfall continues. The conditions–which also have included gale-force winds at times–are getting so severe that officials are warning that many packages may not be delivered in time for them to be opened on Christmas morning, creating the possibility that Santa may not be arriving (on time) this year. Heavy snow predicted for the weekend has already started in many locations, and severe weather warnings have been given for a number of areas. (The UK Met Office has been tracking the snowfall on an interactive map on their website.)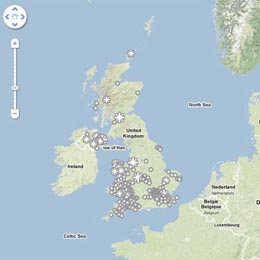 Temperatures consistently below 0°C have been chilling the region for weeks, with The Weather Outlook forecaster Brian Gaze calling the cold spell "a once-in-a-lifetime event." Snow and ice on roads, runways, and rails have created travel headaches, with the next week likely to be even worse. But no one's travel is as important as St. Nick's, and at this point the forecasts are not favorable.
"This year in Scotland and the northeast [England] it is likely that Father Christmas won't be coming," said Simon Veale, director of the delivery company Global Freight Solutions, in a statement certain to shock children throughout the United Kingdom.
The current scene is evoking comparisons to perhaps the U.K.'s most famous holiday weather event, the 1927 Christmas Blizzard that left 20-foot snowdrifts in some locations.