Secretary of Energy Steven Chu says that Americans are having a new "Sputnik" moment. Now that China is moving full speed ahead to develop clean energy and mass transit, he predicts Americans will wake up to an economic and public relations challenge akin to the one that launched the space race with the Soviet  Union more than 50 years ago.
You can watch the full speech given Monday at the National Press Club in Washington, D.C. As an Energy and Climate policy statement, Chu's speech (see also the pdf or ppt versions at DOE) calls for vastly expanded federal funding to bolster American capabilities in engineering and science to seize the  economic edge that clean energy will presumably provide in the coming decades.
Meanwhile, at the White House, as part of this energy policy push on Monday, the President's Council of Advisors on Science and Technology released its "Report to the President on Accelerating the Pace of Change in Energy Technologies Through an Integrated Federal Energy Policy." In addition to economic and security rationales, the report calls for coordinated Federal energy policy in part to "mitigate the risk of climate change." For this purpose,
the invention, translation, adoption, and diffusion of clean energy technologies need to occur within one to two decades, not the 50 years characteristic of major energy systems.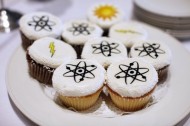 The report is sparse on details that relate directly to meteorological, oceanographic, and hydrologic aspects of renewables that currently occupy so many in the AMS community. In fact, even the frosted cupcakes served to speakers at the Press Club for Chu's announcement were more weather-centric: there were atoms (go nuclear), suns (go solar) and….lightning (go thunderstorm power??).
Anyway, the larger political context is clear. The science community is swept along by geopolitics. It may take considerations of economic competitiveness and national security to get environmental well-being and risks onto a national, long-term agenda.