by Robert V. Sobczak, National Park Service, Big Cypress National Preserve.
Reposted from his blog, The South Florida Watershed Journal.

Are Florida's Lake Okeechobee and Colorado River's Lake Mead comparable?
After all, a Hoover Dam (or dike) surrounds them both.
Lake O bounces from deep drought to levee-lapping flood stage from one year to the next. We've had two deep drops into drought this past decade: the first in 2001 and the second (and longer one) in 2007, plus those couple high years during the hurricane frenzy of 2003-2005.
Keep in mind the difference between extreme drought (9 ft above sea level, 1.7 million acre feet) and extreme flood stage (18 ft above sea level, 5.3 million acre feet) is less than 10 feet.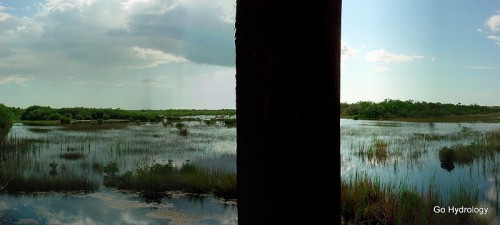 Compare that to Lake Mead's decade-long decline:
In 1999 it was flush at over 1200 ft above sea level high and holding 28 million acre feet of water, but has steadily dropped ever since.
Current stage is around 130 feet lower and only 10 million acre feet (and dropping). Here's a recent
article
describing how water planners are trying to cope.
Why the difference?
Flat south Florida is rain rich but storage poor, while the arid West has storage galore (with its deep canyons) but not much rain …
And more recently, hardly any snow melt either.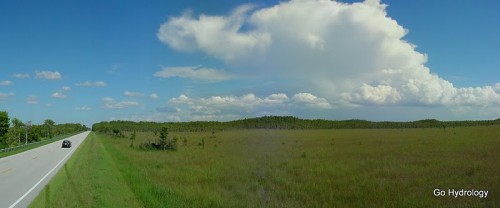 "The drought can't last forever," Western water planners seem to think/hope.
Here in Florida, as much as we like seeing those storms veer away "safely out to sea," the Lake is a couple more near misses and a dry (and warm) La Niña winter ahead from a plummet into spring time drought.
On the other hand, all it takes is one big "rain maker" to send us up into flood stage.
Florida walks a fine line between flood and drought.