Lawrence, Kansas, has been an epicenter of serious weather in the past–dating back at least to a killer tornado in 1913 and with numerous others documented there or nearby since.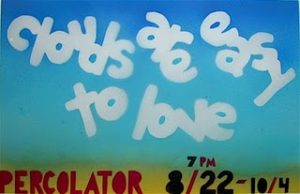 Right now, however, Lawrence has got to be the epicenter of the weather-art world. First an ongoing exhibit through October 4 at the Lawrence Percolator gallery entitled "Clouds Are Easy to Love" features works on the walls–and ceiling–inspired by things meteorological. Channel 6 Meteorologist Jennifer Schack gave a talk at the gallery about the science of clouds.
Meanwhile, a "flash" exhibit in a vacant downtown retail space lasting less than a month, through the end of this week, is featuring some cerebral and sensory explorations of themes that ought to sound familiar: "explores the material attributes of the passage of light and its blockage (through opacity and diffusion)…"
Called "TRANS*parent TRANS*lucent," the show at 739 Massachusetts St. in Lawrence features a drawing/painting on suspended mylar called "Meteorology," by Linnea Spransy. Writes reviewer Ryan LaFerney,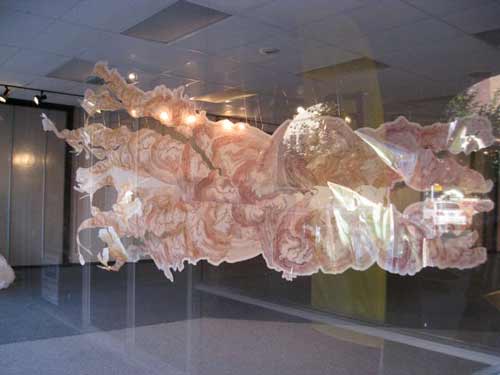 [Spransy's] work is about working within boundaries. She creates predetermined systems, underlying grids that her drawings and paintings are formed from. These grids serve as boundaries to be utilized and traversed. From these grids, which are determined by the artist, Spransy draws one single continuous line that blossoms into a labyrinth of molecular-looking abstractions. For Spransy, these limits generate surprise and even freedom. Meteorology is no different. The only difference is the physicality of the piece. It is experiential, like all of her


"Maelstrom," by Linnea Spransy.


work, but warrants a visceral response and physical interaction. Suspended from the ceiling, Meteorology, outstretched in transparent layers, reaches out to engulf the viewer. It is an inviting work that calls one to investigate the whirlwind of orderly detail from both sides ….The viewing experience is rendered not as one of solitude but as one best experienced in good company. Spransy ends up giving value both to the creative act and to community.
Sounds a lot like some atmospheric scientists we know. A sampling of Spransy's  meteorologically oriented works, from her web site confirms the connection.