Storm chasing is sometimes as much a gripping challenge of driving through nasty weather as it is a calculated pursuit of meteorological bounties.
So perhaps it's not so surprising that it took a storm chaser…Dan Robinson's his name…to start a web site about the fatal hazard of ice and snow on our roads. Over half of the weather-related deaths on American roads each year are in wintry conditions.
Robinson took the liberty of tacking road statistics into the preliminary NOAA numbers for weather hazards (recently released for 2009 here).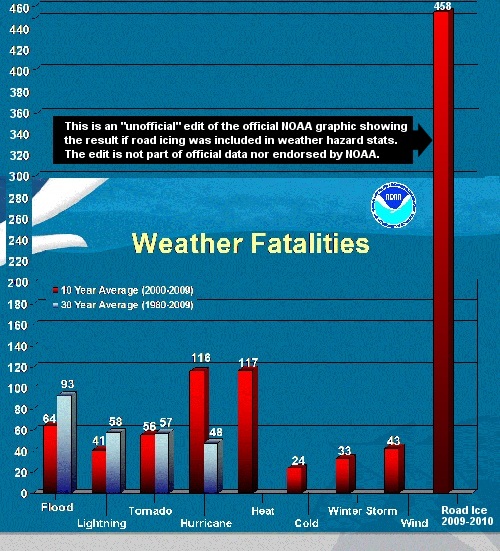 The effect is striking, indeed, and a good lead in to Bill Hooke's report from a Federal Highway Administration workshop today on road weather and the future of intelligent transportation systems.
Clearly we've got a lot of work to do and a lot of lives to save…Hooke, the AMS Policy Program Director, makes the case and points out some of the bumps in the road to better weather safety in your car.