. . . but we may have neglected to mention that it would be the coolest weather-related cake you've ever seen! The confectionary delight was a highlight of Monday's AMS book launch party and celebrated the 2009 release of The AMS Weather Book by Jack Williams.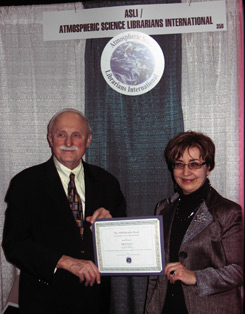 A few minutes later, in a special ceremony, the accolades for Jack continued when he received an honorable mention ASLI's Choice Award in the "popular" category. The fifth annual ASLI's Choice Awards ceremony will be held on Wednesday at 4:45 p.m. at Publisher's Row in the Exhibit Hall.
Congratulations to Jack on the success of his book!