UPDATE, 1/17/10: Due to a last-minute scheduling change, Amanda Lynch will be unable to attend the Annual Meeting. Adaptive Governance and Climate Change will still be a featured release at the AMS Book Launch Party on Monday.
The recent Copenhagen conference provided yet more evidence that countries with completely different priorities are often reluctant to enter into complex and costly agreements with each other. While international negotiations may seem cumbersome at best,  some scholars argue that climate change may best be solved at the local–rather than international–level. Local action may not only be more effective but also could also someday might lead to international agreements.
This local-first policy approach will be explored in a variety of ways at the AMS Annual Meeting, headlined by the release of a new AMS book, Adaptive Governance and Climate Change, by Ronald Brunner and Amanda Lynch. Brunner and Lynch show how locally based programs foster the necessary diversity and innovation for climate adaptation.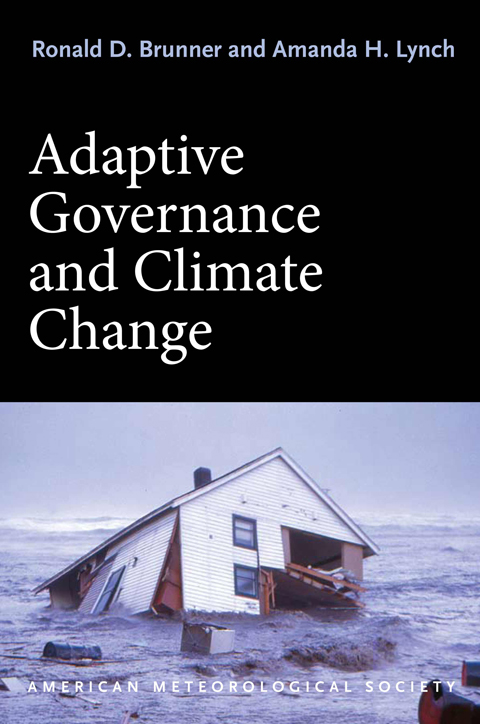 Their book focuses on the real-life climate  issues faced by Barrow, Alaska—and analyzes how the policies developed to address those issues could be adopted by other communities.
In Atlanta, Lynch will be available to discuss these policy perspectives when the book is released as part of the AMS Book Launch Party (Monday, 5:30 p.m., exhibit hall B1, booth 146). In addition, she will be signing copies of the book on Monday and Wednesday (2:45–4:00 p.m., exhibit hall B2).
Communities across the world are moving toward adaptive governance, as can be seen in a number of presentations at the Annual Meeting. Nanteza Jamiat's poster on "Adaptation Challenges to Climate Change Disasters in the Karamoja Cluster (Cattle Corridor) in Uganda" (at the student poster session, Sunday, 5:30–7:00 p.m., exhibit hall B2) addresses the interrelationship of climate change and agriculture in a country where both are a way of life for most of the population. Barry Smit's presentation on "Traditional Knowledge and Adaptation to Climate Change in the Canadian Arctic" (Wednesday, 9:00–9:15 a.m, B213) focuses on indigenous people in the Arctic and the cultural barriers that sometimes need to be broken in order to implement local adaptation initiatives. The Pacific Island nation of Tuvalu is the subject of "Weathering the Waves: Climate Change, Politics, and Vulnerability in Tuvalu," a poster by Heather Lazrus (Monday, 2:30–4:00 p.m., exhibit hall B2) that shows how one of the most vulnerable areas in the world is in some cases reverting to traditional governmental methods to meet the perils of climate change. And Cynthia Fowler's presentation on "Coping in Kodi: Local Knowledge about and Responses to Climate Change and Variable Weather on Sumba (Eastern Indonesia)" (Tuesday, 4:15-4:30 p.m., B213) notes that many people in Indonesia's marginal environments  relate climate change to local development, thus crystallizing in one small area many of the problems that were evident at Copenhagen between developing and developed countries.